TOUCHED BY LYME: Hope for those who have fallen through the medical cracks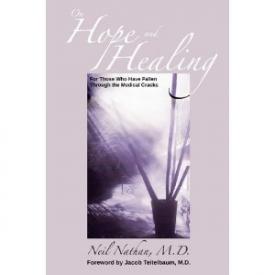 (Book review) In his book, ON HOPE AND HEALING: FOR THOSE WHO HAVE FALLEN THROUGH THE MEDICAL CRACKS, Dr. Neil Nathan uses the tools of both western and alternative medicine to explore how chronically ill people can return to health.
On Hope and Healing: For those who have fallen through the medical cracks, by Neil Nathan, MD (Et Alia Press, 2010).
If you've been chronically sick for years, making the rounds of doctors who either can't name what's wrong with you or else can't fix it, you probably identify with the phrase "falling through the medical cracks." If so, Dr. Neil Nathan has written this book for you.
Nathan is an MD who combines western medicine with a variety of alternative modalities. He starts with this assumption: "Most chronic illness is not caused by one specific event or imbalance, but by a complex inter-relationship between multiple body systems."
When first assessing a chronically ill patient, Nathan takes particular note of what he calls the Big Six: adrenals, thyroid, sex hormones, magnesium, food allergies, and the intestinal tract. According to Nathan, most people who have been persistently ill for a long time will have imbalances with the Big Six. Addressing these imbalances can go a long way to helping the patient feel better, while continuing to get to the bottom of whatever else may be going on.
Next, Nathan looks at what he calls the Little Six, though he doesn't diminish their importance: hypoglycemia, mercury toxicity, mold, chronic infections (like Lyme disease and Epstein-Barr), amino acids/neurotransmitters, and abnormal methylation (a chemical process in the body that can contribute to fatigue and fibromyalgia-type symptoms.)
Nathan asserts that the majority of his patients are much better, sometimes even cured, after the Big Six and the Little Six have been appropriately addressed. He goes on to explore the subject of chronic pain, and various ways to treat it, including osteopathic manipulation and craniosacral therapy. He offers cautionary words about how the trappings of modern life (chemical exposure, electromagnetic frequencies) are contributing to ill health, and takes a look at promising new treatments for a variety of chronic conditions.
If you feel like you've fallen through the medical cracks, On Hope and Healing may provide insights and tools to help you get back up where you belong—on the road to improved health.
Additional remarks added April 9, 2011:
I have been contacted by several Lyme patients who have interpreted my review to mean that the author minimizes the importance of Lyme treatment. (By grouping it in the aforementioned "little six.") As one person asked, "is he saying that fixing a broken thyroid will cure chronic Lyme?" I'd like to offer the following clarifying comments:
No, I don't believe the author is saying that fixing the thyroid fixes chronic Lyme. I believe what he is saying is this: by the time somebody shows up in his office, they've typically been sick for years with a wide variety of ills. Regardless of what the initial cause was (Lyme or something else) by this time, their adrenals are shot, their thyroid is out of whack, they have problems with their GI tract, etc.
He has found that by addressing these problems (often starting with the adrenals) he can get the patient feeling substantially better, while continuing the process of figuring out what else is wrong.
He is not diminishing the importance of Lyme treatment. He's saying that a person with Lyme probably has a bunch of other stuff going on that is contributing to making them feel miserable. By addressing the whole picture–not just the Lyme–he feels he has a better chance of helping them get well.
I think it is a good book, with insights that many Lyme patients will find useful.
Contact reviewer Dorothy Kupcha Leland at dleland@lymedisease.org.