"Lyme Ease Survival Guidebook" aims to help you heal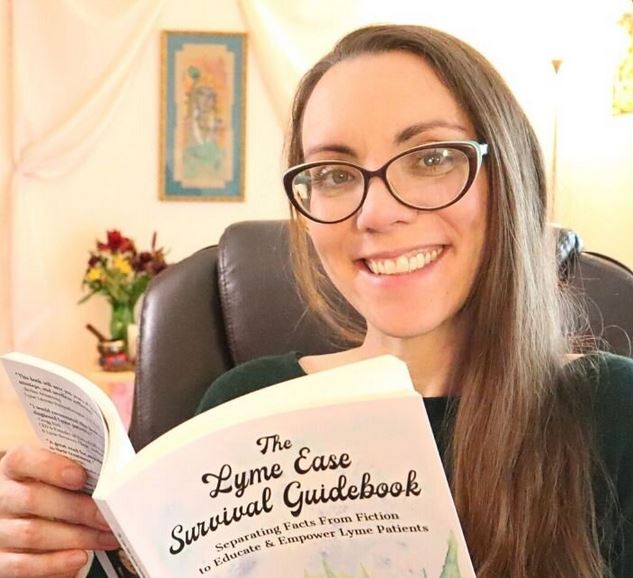 By Jenn Hyla
Growing up in Las Vegas, Nevada, I never worried much about bug bites. In fact, one of my dad's favorite sayings when I scraped a knee or something was, "I've had bug bites worse than that."
So, when I woke up one day with a big swollen knee without knowing how I injured it… a tick bite was the furthest thing from my mind.
Being in the Air Force at the time, I reported to the base doctor who ordered bed rest and gave me ibuprofen. During the bed rest, I developed some flu-like symptoms, swollen glands, fever, and loss of appetite. I slept right through dinner, unheard of for me!
However, by the time my bed rest orders were over, my knee had returned to normal size and my flu-like symptoms had resolved.
Then, a few months later, my knee swelled up again. That time, the base doctor ordered me to use crutches for two weeks and to take massive amounts of NSAIDs. By this point, my knee hurt non-stop. Within a few months, I was diagnosed with arthritis and began receiving cortisone steroid injections.
Different symptoms, different doctors
Over the next four years, I had signs that something was going on with my immune system. But for each issue, I was seen by a different clinic doctor and nobody tied these things together. I trusted my doctors and really didn't ask many questions until I lost 26 pounds rapidly over 12 days, lost feeling in my arms and legs, and developed a long list of neurological symptoms.
I felt like I could die any moment, yet no one knew what was happening to me. One of my doctors literally said, "I don't know, what do you want to do?"
It was the most confusing and terrifying time of my life.
I honestly don't know how long it would have taken me to suspect Lyme disease, if not for a doctor with a very poor bedside manner. Nearly four years after the initial symptoms and tick bites, I found myself crying in the office of the "best gastroenterologist in the city." I described a long list of digestive problems, neuropathy, migrating joint pain, insomnia, vision, and cognitive problems.
After I'd waited four months for this appointment, he ordered a slew of tests that I knew would take months to get any results from. I held onto my chair and told him, "I'm not leaving until you at least guess why I can't feel my arms and legs"
He handed me a tissue as he stood up, held the door open for me to leave and said, "if I were you I would ask my general doctor for a Lyme disease test… I can't help you with that."
Positive test results
I left that office feeling like I had just been blown off! I did ask my general doctor for a Lyme disease test, simply to rule it out. Two weeks later, to my complete surprise, my test came back unequivocally positive for Lyme disease.
Upon further testing, I learned I had also contracted two additional tick-borne illnesses: relapsing fever and ehrlichiosis.
Little did I know that the diagnosis would only be one layer of a complex and controversial illness that would require complex treatment and years of healing.
I bounced from specialist to specialist, who gave me a growing list of labels for my symptoms, each with its own acronym and no root cause. I was prescribed medication after medication, each with its own side effects. Sometimes I was prescribed additional medications just so I could tolerate the first ones!
At one point, I was taking medications every two hours and still feeling horrible, while my health continued to decline.
Nothing helped me feel better and my doctors couldn't answer many of my questions.
Starting to dig
Leaning on my biology background, I started digging through heaps of scientific studies despite all the headaches, brain fog, and fatigue. Long story short, I decided to stop treating and start healing. That's when I really began to improve.
I became fascinated by our body's natural ability to heal and practiced every healing modality that sparked my interest. I began connecting to and trusting my intuition more and more. As I began to heal, I started sharing my story publicly on social media and YouTube.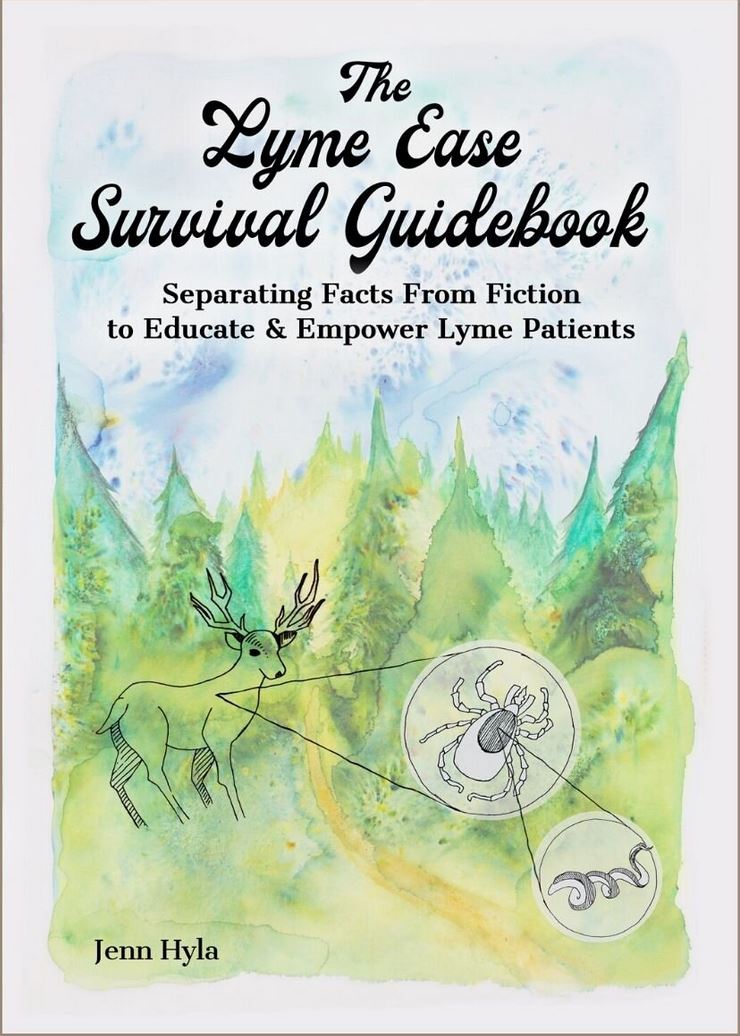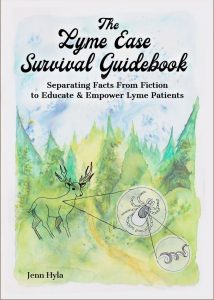 While there is no magic pill or one-size-fits-all protocol, I am living proof that you CAN find healing. Through years of research, personal trials, and working with other Lyme sufferers, I can tell you that there are many common pieces to recovering from Lyme disease.
I've found that the most successful treatments include not only treating pathogens, but also reducing inflammation, supporting detoxification, addressing biofilms, healing the gut, and cultivating a healing mindset.
I share this healing framework, and what I've learned the hard way about each of these topics in my book, The Lyme Ease Survival Guidebook.
I remember how difficult it was to read and retain information, so I created this book with the cognitive symptoms of Lyme in mind.
It contains clear concise language, and action steps to help you find well-being regardless of how badly or how long you've been sick. You can find healing. Never give up!
For more information about Jenn Hyla and The Lyme Ease Survival Guidebook, see her website.