TOUCHED BY LYME: Returning to the scene of the crime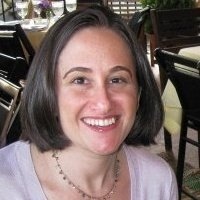 Guest blogger Jennifer Crystal revisits the spot where a tick gave her Lyme disease 15 years ago.
Last weekend, I returned to the scene of the crime.
A friend invited me on a whim to her family's lake house, just a few miles down the road from the summer camp where we'd worked together as counselors, the very place where I was bitten by a tick fifteen years ago.
It might sound crazy that I would go near a wooded area again, especially the one that harbored the tiny bug that put my life on hold for so many years. But while camp is where I got sick, it's also where I came to life.
I first went to camp when I was eleven years old. I immediately fell in love with the refreshing water of the crystal-clear lake, the hushed whisper of the wind that whooshed through the pine trees at night, and the security of friends who laughed, cried and grew with me, summer after summer. Together we learned to water-ski, to sail, to swim a mile without tiring. We capsized canoes in the middle of the lake and paddled our way back to shore; we lit campfires in the pouring rain and cooked our own breakfast; we lived without electricity or bathrooms in our cabins, and always came back for more.
Whenever someone asks me who the most influential person in my life has been, I say, "It's not a person, it's a place." Camp taught me confidence. It taught me to believe in myself, to work towards goals, to live with other people. It taught me to value nature, to take care of the world around me, and myself.
At camp I also learned to handle disappointment. Sometimes I would work all summer towards a particular honor, only to not quite master the necessary skills and have to come back the next summer to try again.
I never expected that the persistence I learned at camp would one day help me survive an illness, nor did I anticipate that said illness would be traceable to my beloved outdoor classroom. The irony was not lost on me. But I am a camp girl, "dipped in sunshine and tough as nails," so I didn't let it stop me. I soldiered through.
That's not to say it was easy. There were times, in the darkest days of illness, when I completely lost hope. I lost faith that I would ever get out of bed, that I would ever climb a flight of stairs, that I would ever be the happy, fit, tanned camp counselor who spent summers passing on the traditions I'd loved as a child. If someone had told me, as I lay in bed hooked up to an IV, that I one day would be able to travel to camp again, I would have burst out laughing.
But with proper diagnosis, effective medicine, adjunct therapies, and the support of family and friends, such lofty goals are within reach for Lymies.
Unfortunately there is no quick fix. The road is long, winding, and dark. It took many summers, years, of continued efforts for me to become as healthy as I am today. In fact, when I visited camp three years ago, I had far less energy than I do now. I was able to make the travel, but spent considerable time resting once I got there. I tired easily walking the rocky terrain, and a friend had to drive me up the big hill that runs from the lake to the top of the camp property.
Last weekend, I walked up that hill all by myself. A few hours later, I swam front crawl out to my friend's dock, and dove in to the water that has provided therapy for me in different ways, and at different stages, throughout my life.
Maybe next time, I'll canoe around the lake.
Post-script: This time around, I took necessary precautions against ticks. I only wish I'd known fifteen years ago to cover myself in DEET, do thorough tick checks every night, take a shower before bed, and stay on marked paths and out of the woods. Besides the long walk up the hill, which is on a dirt path, I avoided the woods entirely and spent most of my time in the lake. I didn't want to let the fear of ticks stop me from going someplace that I love, but I did so with heightened awareness.This is how we Lymies must live, and it is the way we must encourage others to protect themselves, so they don't wind up with our fate.
Jennifer Crystal, a Lyme survivor, is working towards her Masters in Creative Writing at Emerson College, in Boston. Her website is jennifercrystal.com. Email her at jencrystal5678@gmail.com.