PANS/PANDAS/AE conference, Arlington, Virginia
October 6, 2019 @ 8:00 am

-

5:30 pm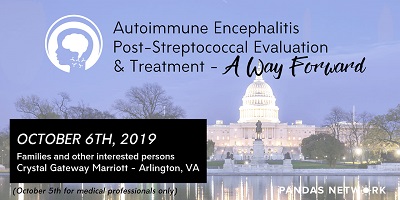 PANDAS Network proudly invites families and interested public to a full day conference of ten PANS Consortia experts who collectively have seen patients from around the globe for over 20 years. They will discuss current treatment and research trends in PANDAS-PANS-AE.
This is an opportunity to create community and friendships on our path to healing.
The diagnosis and treatment of Pediatric Autoimmune Neuropsychiatric Disorders Associated with Streptococcal infections (PANDAS) and Pediatric Acute-onset Neuropsychiatric Syndrome (PANS) remain important challenges in pediatric medicine as children continue to present from the debilitating symptoms of both disorders.
Goal: This conference is aimed at reviewing this disorder as has it evolved over the past 20 years, the speakers explore the latest evaluation treatment guidelines, and, inform parents of the ongoing research as it is happening.
* Georgetown/MedStar will host a medical professional conference only on Saturday, October 5th. Website is pending. *
Location: Crystal Gateway Marriott, 1700 VA-110, Arlington, VA 22202