Morgellons Disease Scientific Conference, Austin, Texas
April 6, 2019 @ 8:00 am

-

April 7, 2019 @ 5:00 pm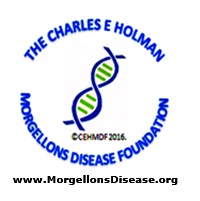 The Charles E. Holman Foundation is pleased to announce the 12th Annual Medical – Scientific Conference on Morgellons Disease April 6-7, 2019.
The 2-day conference will cover key topics and latest findings in research, laboratory and clinical aspects of Morgellons Disease. Our ultimate goal is to provide physicians and other medical practitioners with insight into recent developments in the understanding of Morgellons disease as well as bring researchers, medical professionals and patients together to exchange information, ideas, scientific data, and to develop networks for medical management and continued learning.
Conference Goals:
To provide a historical perspective on scientific progress in Morgellons disease;
To review the current state and options for medical management;
To present case studies and provide opportunities for discussion;
To explore current thinking on the pathophysiological mechanisms behind chronic diseases that may be relevant to Morgellons disease;
To explore less recognized manifestations of Morgellons disease (MD);
To enhance knowledge-sharing between researchers and front-line practitioners of care for MD patients.