LYMEPOLICYWONK: IOM LIVE HEARING BLOG Part II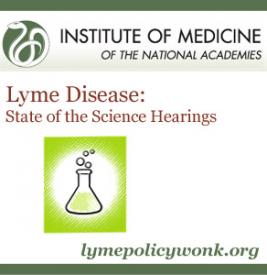 Please refer back to this site for new post on the hearings
12:40 pm EST: Jill Harper, Office of the Director, National Institute of Allergy and Infectious Diseases gave the charge from the NIAID to the IOM committee
Tests are insensitive
Chronic manifestations of Lyme disease
Some animal studies evidencing persistence, but not clear importance of these
Need to focus on mechanisms of pathogensis of disease and better lab tests
NIAID to sponsor scientific conference
Broad spectrum of view on LD
Forum for public input
Public participation
We ask that the forum provide a forum for public input
Broad participation accessible via web pass
And to include participation of people with lyme disease
Summary of the current state of the science
Q: Coinfecitons
A: NIAID does not want to drive the answer of the breadth of this inquiry
Q:  Are we charged with looking at the body of information related to symptom complexes
Persistence of infection is important
The relationship between the infection and symptoms
Q: What to include and not include
Treatment guidelines
Diagnostics
Case definitions
Research agenda
Vaccines
A.      Treatment guidelines:  should not cover treatment guidelines  at the time we drafted the statement of work for this the feeling was a separate forum for that –it is not intent to completely ignore treatment issues
B.      Diagnostics, vaccines, case definitions, –input from other agencies would be useful
C.      Research agenda:  publicly available summary
Q the objective and use of the final report
The ultimate purpose and format  of report—we do see meeting summary as something that all agencies can use as what we do and don't know about these diseases—where the gaps and the opportunities might be—to identify areas most needed for scientific research
Q how will it impact NIH
A useful document on where the most interest is in research
There have not been a lot of opportunities for patients to have input—unique perspective to help
1:30 pm EST Susan Connell,  European equivalent of  CDC
Pathogens beside Borrelia burgdorferi
Anaplasma
Babesia
Bartonella
Coinfections common?
Modern tests are quite good
Late Lyme is quite responsive to treatment—even neurological MS presentation
Searched for evidence of seronegative late Lyme if it occurs at all is extremely rare
No reliable reports of seronegative late Lyme
Concerned about over use of laboratory tests
Concerned about the use of unorthodox tests and microscopy
CD-57 are not recommended because non-specificity
Tests are quite expensive for patients
Need more outcome studies
Definition of chronic Lyme disease
What about patients who have persistent symptoms without underlying infections which happens in other infections
1:45 pm Ben Beard, CDC
2020 Goals
Strengthening national surveillance
Prevention
Improving diagnosis and treatment
Prevention
                Need for better data for explanation for drivers for trends we need
                Need for improved diagnostics
We do not know the extent of underreporting
We have no basis for showing we can reduce human cases
Diagnostic difficulties
Lack of sensitivity early in infection
Difficulty distinquishing active infection from prior infection
Identification of other agents in ticks
What are the pathogens in ticks responsible for human illness
What diagnostics are needed to detect
Vaccines
Safety
Efficacy
Costliness
Sally Hojvat, FDA
There is no perfect diagnostic test
What are the risks of false positive
Class II manufacturers have to send in information for them to review
Factors include:
Analytical reliance and accurate
Performance in an intended population
How sensitive test
Tests approved by FDA to date:
4 commercial test through FDA
IFA
IgG
IgM
ELISA 52 have been approved
WB 20 have been approved
No PCR  approved through FDA: therefore only home brew or lab test
Strain differences between US and Non US strains
Should the two step process be changed to a one step process
No one step tests submitted so far have shown greater efficacy than two step
Problems include
Lack of available FDA PCR test
Lack of well characterized serology specimens for instance indicating stage or length of illness
Multi-organism testing
Ask for data on each and cross reactions from putting together in one test
No FDA approved
Culture
Skin biopsy
Non-commercial assays
DOD, CDC have own assays
Patti Bright, Wild Disease Coordinator
US Geological Survey
More than 90% of vector borne diseases
Focus of research should be environmental factors
Environmental impact of control efforts such as pesticides
Research to understand eco factors that affect tick abundance and distribution
Identification of reservoir hosts
More invasive strains are transmitted in milder climate circumstances
Elizabeth Blood, NEON Program Director
This is a highly technical talk on research and information from satellite and ecological project useful for modeling large scale factors to help interpret the information by CDC and local health department to be able to understand critical drivers like climatic changes.
John Carroll, Entomologist, US Dept of Agriculture
Adalberto Perez de Leon, Laboratory Director,  US Dept of Agriculture
Deer targeted technologies.  Deer can feed many ticks and serve as host.  The reproductive strategy is where female lays many eggs but few survive.  Relatively few adults compared to nymphal ticks.  Relatively few adults feeding on relative few deer (particular type of tick)
Tick vaccines and contraceptives to treat white tail deer to deliver to ticks.  This is all pretty interesting about opportunities to control tick population through pesticides, vaccines, and contraceptives.
Montira Pongsiri, Environoment Health Scientist, EPA:
The ecology of Lyme disease—the nymphs plays a larger role in transmission.  How does the diversity of hosts affect tick abundance? Take an interdisciplinary science approach, because want their research results implemented.  Perhaps we can identify modifiable eco-factors that influence disease, land use disruption and change and disease spread.  We have developed through private public partnership processes to control pests. 
Public Comment Period
Dr. Weinstein—no show
Pat Smith–t
Greg Skall