LYME POLICY WONK: CALDA survey results are in!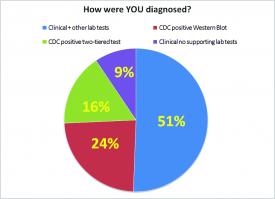 Ask the Lyme community a question, or two or 30 and they answer! When we asked for input before the IDSA Lyme hearing, we had 3,600 completed surveys within 2 months—that's astounding! I want to thank everyone who participated. The survey results provide very important information for the Lyme community and will be useful to describe the extent of the problem that patients have being timely diagnosed, treated, reimbursed, seriously ill and the devastating effect the guidelines have on patients health.
Those of you who listened to my speech before the IDSA review panel know that I used the survey data to reinforce key points.  (You can listen to the hearing , which is archived.)  This survey should be a powerful tool with public policy makers trying to understand the devastating impact these guidelines have on patient care and the need for curb the effects of these guidelines through legislative and other means.
Some key points:
**Only 16% of those responding were diagnosed within 4 months of becoming infected with Lyme.  The remainder were diagnosed far later when Lyme disease is much more difficult to treat.  It took more than 6 years for 35% to be properly diagnosed.

**Only 13% were diagnosed using the IDSA-recommended two-tiered Lyme testing approach.  20% were diagnosed by western blot using CDC criteria, and 42% were diagnosed clinically with supporting lab tests that did not use CDC surveillance criteria.

**90% had difficulty or extremely difficulty obtaining treatment from a knowledgeable physician to treat Lyme disease.  51% had traveled more than 100 miles to obtain treatment and 53% had been forced to travel out of state to obtain care.

**54% had been treated and failed treatment under IDSA protocols.  A resounding 81% stated that they would not consider being treated under IDSA protocols.

**More than 60% of respondents who failed to improve under IDSA protocols improved with additional treatment.

**41% of patients were not able to afford the medical care they needed.

**88% had to cut back on work, school and household activities.  50% either had to quit work or school due to illness and another 11% went from full time to part time work or school.
I will be taking a closer look at these survey results in my blog over the next couple of months.  There are a lot of topics to explore.  Who treats this illness?  Who controls it?  What role do rheumatologists play?  How many patients are treated by IDSA physicians? What symptoms improve with additional treatment?  Please check my blog for more to come!   www.lymepolicywonk.com .
If you are not a member of CALDA, please take a moment to join and support our good work!
Lorraine Johnson, JD, MBA
Lymepolicywonk.com