TOUCHED BY LYME: Citizen promotion of "Under Our Skin"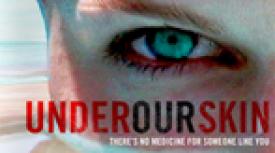 The theatrical release of the Lyme documentary "Under Our Skin" is almost upon us. There is still time for you to help fill those theater seats! One member of an on-line support group came up with some creative ideas for getting the word out that just about anybody could do.
Rosemary of NewYorkLyme got inspired! Maybe she will inspire you. If the movie is being shown anywhere near you, here are some things you can do.
Rosemary wrote:
Some actions I took today – maybe give someone some ideas : )
• posted to Craigslist under Health Forum, NYC titled:
"Riveting health documentary! NYC June 19-25"
(and then got flagged for spamming? – oh well!)
• posted same announcement and personal note to my online community
• posted flyer on bulletin board at health food restaurant
• posted flyer on bulletin board at holistic pharmacy
• contacted friends and neighbors
• going with friends to Friday show
TO DO:
• our support group will be calling our local Congressional reps to
ask their Health Aides to see it
• email my GYN who is Lyme-sympathetic and has other pts. with Lyme
• ask my pharmacist to put flyer in the window
IDEAS:
• email/call the healthcare journalists at local papers to ask them
to see it (probably the film co. is doing this but can't hurt to do
more) (especially those who have written Lyme stories in the past,
good or bad)
• mail flyer with personal note to my primary care doctor
OK – I'm pooped!
Rosemary
*********