Strung up, strung out or simply entangled? Johnson & Stricker lay down the law on how IDSA became entangled with antitrust.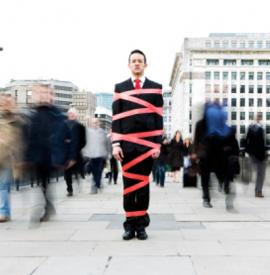 Some more light reading for those late nights when nothing is on the tube and you're wondering how IDSA got ensnared in antitrust law with its Lyme disease guidelines. Just how flawed was its guidelines development process? Why is it important to democracy that opposing viewpoints be heard before vital freedoms—like your ability to choose among treatment options—are taken away. When do medical societies have an obligation to not suppress legitimate medical controversies? And, what is the drill for the settlement process anyway?
If you have comments on the article, send them to me at johnson.lorraineb@gmail.com
Journal of Medical Ethics 2009;35:283-288; doi:10.1136/jme.2008.026526
Copyright © 2009 by the BMJ Publishing Group Ltd & Institute of Medical Ethics.
Attorney General forces Infectious Diseases Society of America to redo Lyme guidelines due to flawed development process
1 California Lyme Disease Association, Ukiah, California, USA
2 International Lyme and Associated Diseases Society, Bethesda, Maryland, USA
Correspondence to:
Dr R B Stricker, 450 Sutter Street, Suite 1504, San Francisco, California 94108, USA; rstricker@usmamed.com
Lyme disease is one of the most controversial illnesses in thehistory of medicine. In 2006 the Connecticut Attorney Generallaunched an antitrust investigation into the Lyme guidelinesdevelopment process of the Infectious Diseases Society of America(IDSA). In a recent settlement with IDSA, the Attorney Generalnoted important commercial conflicts of interest and suppressionof scientific evidence that had tainted the guidelines process.This paper explores two broad ethical themes that influencedthe IDSA investigation. The first is the growing problem ofconflicts of interest among guidelines developers, and the secondis the increasing centralisation of medical decisions by insurancecompanies, which use treatment guidelines as a means of controllingthe practices of individual doctors and denying treatment forpatients. The implications of the first-ever antitrust investigationof medical guidelines and the proposed model to remediate thetainted IDSA guidelines process are also discussed.