NEWS: Lyme patients rally outside IDSA's annual meeting in Boston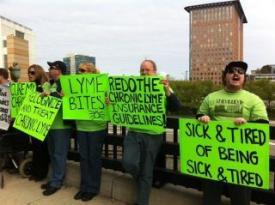 According to participant Sharon Rainey, about 70 people gathered peacefully in Boston outside the annual IDSA convention to protest the current treatment guidelines for Lyme disease. Coming from as far as Arizona, Wisconsin and Virginia, Lyme patients held homemade signs and banners, and chanted, "I-D-S-A, change your Lyme disease guidelines today." Approximately ten IDSA convention attendees approached the protesters individually, asking questions and listening to Lyme patients' concerns.
Click here to access photos and video of the event via our Facebook page.