NEWS: Lyme "crawling under the radar" into Worcester County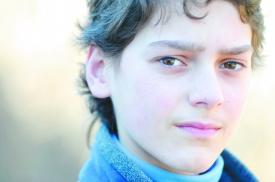 Worcester Magazine, an alternative weekly in central Massachusetts, takes a comprehensive look at the realities of Lyme disease in their area.
From Worcester Magazine
The Rise of Lyme
Tick-borne disease crawls into Worcester County
by Barbara Taormina

Ben Secino likes inventing stuff. He's been thinking lately about a teddy bear that warms up and comforts kids who are fussy or can't sleep. For adults, he's come up with a hovering no-hands flashlight, a kind of Star Wars-like ultra-handy night gadget. People will be banging down the doors of Home Depot to get one.
Ben is also thinking about designing video games, the kind with stories, strategies, intricate puzzles and great graphics. And when you talk to him you have no doubt he'll do all of that, and more.
But three years ago, when he was in the fourth grade, nothing was certain about Ben's future.
"It was awful," recalls his mom, Diane Secino. "His eyes would jitter, and he was having a lot of trouble in school. By late January, he was having horrifying migraine headaches and neurological problems."
Secino kept hoping for the best as she watched the worst unfold.
"By the end of March, he couldn't count to three," she says. "He kept falling down, he couldn't walk, he couldn't stand light and the pain was beyond measure."
The Secinos went from doctor to doctor to doctor, but no one had any explanations, or any cures.
"They kept telling us it was psychiatric," says Senico.
During one of Ben's many doctors' appointments, an acquaintance mentioned Shelia Statlander, a clinical psychologist in Framingham who had cataloged a long list of problems associated with Lyme disease. The Secinos learned that Statlander had attributed almost every detail of her Ben's decline—the muscle weakness, the loss of language, the overwhelming fatigue—to late-stage Lyme disease.
Read the rest of the article here.