NEWS: Vermont governor signs Lyme doctor protection bill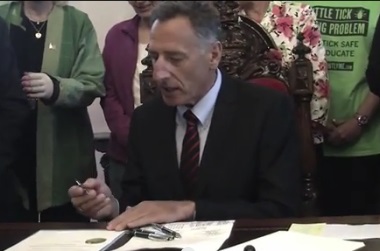 The new law aims to give doctors more latitude in treating Lyme disease patients, without fear of disciplinary action.
From VTDigger.org:
By Morgan True, May 23, 2014
Peter Shumlin signed a bill Thursday aimed at giving doctors more latitude to treat long-term symptoms of tick-borne illnesses, which advocates lauded as a good first step.
"We have one of the highest rates of Lyme disease in America, per capita, and what we know about Lyme disease is that if not detected early it is an extraordinarily debilitating disease that can uproot the life of an otherwise very healthy Vermonter," Shumlin said.
The law requires the state Board of Medical Practice to issue a memo saying that it won't censure clinicians for using alternative methods to treat patients with ongoing symptoms of Lyme and other related diseases.
Click here to read the rest of the article.
Click here for coverage from Burlington Free Press.