NEWS: Virginia Lyme task force hears stories of loss and pain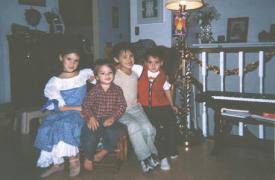 Twenty-five residents of the Springfield, VA, area this week told members of the governor's Lyme Disease Task Force about their experience with the tick-borne illness. One of the most poignant accounts came from a mother whose 9-year-old daughter died of Lyme-related causes in 2002.
From Connection.com:
Lyme Disease: Epidemic 'Largely Ignored'
Governor's Task Force on Lyme disease hears stories of loss, pain and frustration.

| | |
| --- | --- |
| Thursday, March 31, 2011 | |
Tricia Platas, a Springfield mother of four, sat in front of Gov. Bob McDonnell's Lyme Disease Task Force on Tuesday, March 24, clenched her hands together, and testified about losing her 9-year-old daughter, Amber Marie, to Lyme disease.
"It was a few months after her ninth birthday when we really knew something was wrong," Platas said. "She woke up one morning in so much pain that she could not walk to the bathroom. This was a little girl who loved to laugh, loved to sing and dance, Amber was the light of our lives."
Platas cried when she told the panel and 120 attendees how desperate she was to make the many doctors she saw with Amber to take her daughter's "mysterious" illness seriously. In her frantic search for a cure, she took Amber to a doctor who strapped the little girl to a bed, and waved foul-smelling oils in her face. "Amber was screaming. I just can't believe anyone would do that," she said.
"I wanted them to treat my little girl right, so I wouldn't always ask the right questions, or demand answers. I feel terrible about that," she said. "You have to push for answers."
Amber Marie Platas died on April 22, 2002, at Children's National Medical Center.
Platas was one of 25 area patients and caregivers who testified about their experiences with Lyme disease at Immanuel Bible Church in Springfield. They shared stories of pain, fear and fatigue with the eight-member panel of health department officials and legislators' representatives. It was the fifth public testimony hearing about the spread of Lyme disease in the Commonwealth.
Click here to read the rest of the article.