NEWS: Lyme disease bill advances in Virginia Legislature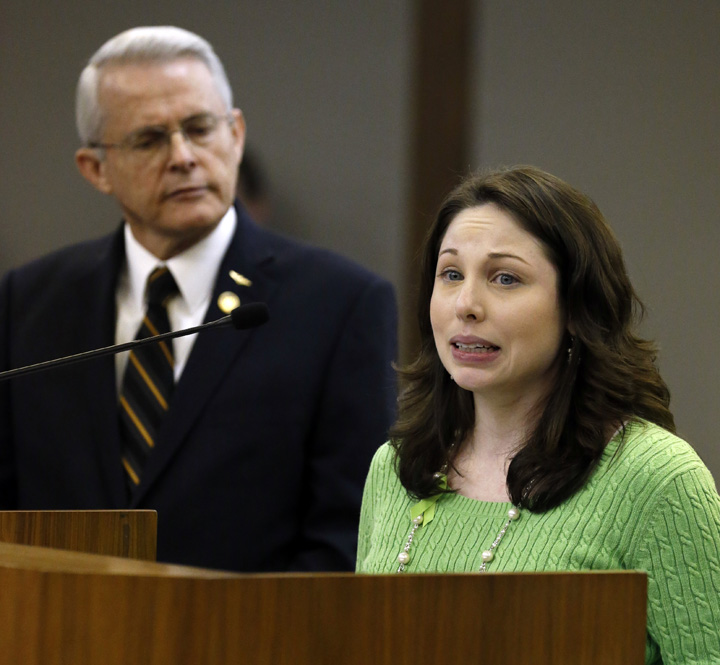 It would require people getting tested for Lyme be informed that a negative test result doesn't mean you don't have the disease.
In the accompanying photo from the Richmond Times Dispatch,  Lyme Disease patient Christina Perera, 30, from Mechanicsville, VA is overcome with emotion as she speaks for SB971. Sponsored by Sen. Richard H. Black, R-Loudoun, the bill later passed the Senate Education and Health committee at the General Assembly Building in Richmond, VA.
The bill calls for every person getting tested for Lyme disease be given the following disclosure:
YOUR PHYSICIAN HAS ORDERED A LABORATORY TEST FOR THE PRESENCE OF LYME DISEASE FOR YOU. CURRENT LABORATORY TESTING FOR LYME DISEASE CAN BE PROBLEMATIC AND STANDARD LAB TESTS OFTEN RESULT IN FALSE NEGATIVE AND FALSE POSITIVE RESULTS, AND IF DONE TOO EARLY, YOU MANY NOT HAVE PRODUCED ENOUGH ANTIBODIES TO BE CONSIDERED POSITIVE BECAUSE YOUR IMMUNE RESPONSE REQUIRES TIME TO DEVELOP ANTIBODIES. IF YOU ARE TESTED FOR LYME DISEASE, AND THE RESULTS ARE NEGATIVE, THIS DOES NOT NECESSARILY MEAN YOU DO NOT HAVE LYME DISEASE. IF YOU CONTINUE TO EXPERIENCE UNEXPLAINED SYMPTOMS, YOU SHOULD BE RETESTED PERIODICALLY AND YOU SHOULD CONTACT YOUR PHYSICIAN IF YOU HAVE ANY QUESTIONS OR CONCERNS.
According to the Times Dispatch, there was more than an hour of testimony on the bill. "More than 100 supporters, among them Lyme sufferers who had initially tested negative for the disease, showed up in the hearing room. Physicians said the General Assembly should not intervene in telling physicians how to practice medicine. In a mixed vote, the committee approved Senate Bill 971, which now heads to the full Senate."
Click here for entire Times Dispatch article.
Click here for more information about the bill.