Update on petition to keep Shapiro off the TBD Working Group
(Update: As of May 31, more than 17, 830 have signed the petition.)
As of Friday afternoon, May 24, more than 13,000 people have signed our petition to keep Dr. Eugene Shapiro off the federal Tick-Borne Disease Working Group (TBDWG).
Background: On May 15, the Infectious Diseases Society of America announced that one of its members, Eugene Shapiro, had been named to serve on the TBDWG.
The Department of Health and Human Services has not confirmed that. As of the publication of this blog, the agency  hasn't announced any other appointments to the panel, either. (This is curious, because the group is supposed to meet in Washington DC on June 4.)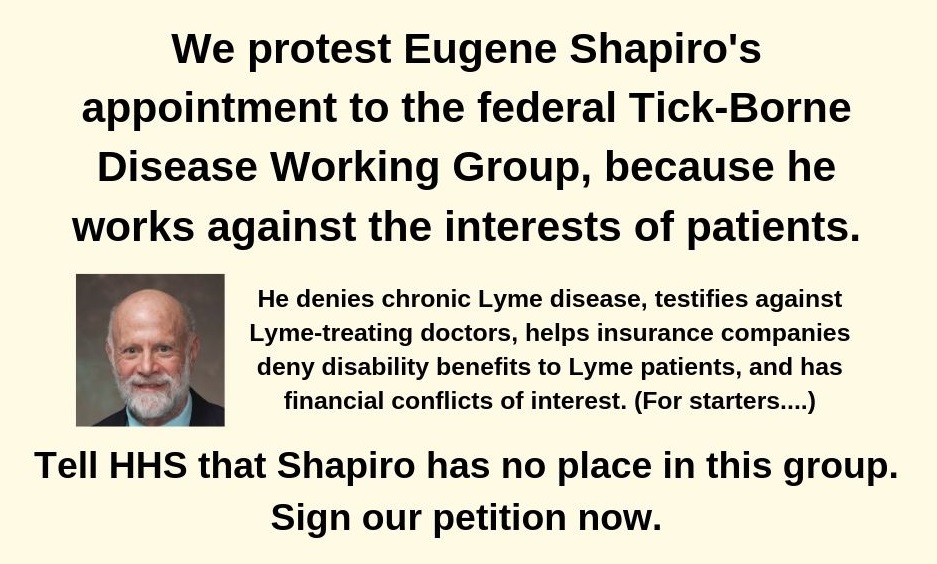 Over the years, Shapiro has shown himself to be no friend to Lyme patients. Currently, he's a named defendant in Torrey v. IDSA et al, a federal lawsuit. It charges Shapiro and other authors of the IDSA guidelines, along with eight insurance companies, with conspiring to deny medical care to Lyme disease patients.
Click here for more details about why we oppose having Shapiro on the panel.
Dr. Shapiro is not simply a member of the IDSA. He's someone who has actively waged war against our community for years. He's clearly a poor choice for a panel that's supposed to advise the government on Lyme-related healthcare policy.