Upcoming Lyme disease education events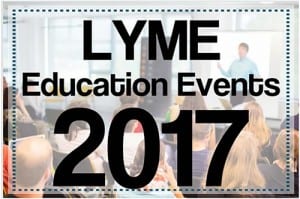 Lyme disease patient education events are an excellent way to find out new information, learn about different treatment philosophies, and meet others who are traveling the same road. The following list will be updated and re-posted weekly.
February 25, Arizona Lyme Disease Association, Tempe, AZ. Guest speaker: Dorothy Leland, vice-president of LymeDisease.org and co-author of "When Your Child Has Lyme Disease: A Parent's Survival Guide." https://www.lymedisease.org/touched-lyme-ill-speaking-arizona-feb-25/
March 25, "Unraveling the Mystery of Lyme Disease," NW Lyme Patient Workshop, Spokane, WA 99202 Speakers: Dr. Marty Ross, author of The Treat Lyme Book, and patient advocate Melanie Boylan. More info: http://www.nwlymepatientworkshop.com/
April 8, "MyLymeData2017: Overcoming Lyme Disease." San Ramon, CA (San Francisco Bay Area). Speakers: Lorraine Johnson, Dr. Raphael Stricker, Dr. Christine Green, Dr. Raj Patel, Dr. Jennifer Sugden. More info: https://www.lymedisease.org/mylymedata2017-april8/
April 29, Midcoast Lyme Disease Support and Education Conference, Wiscasset, Maine. Speakers: Dr. Kenneth Liegner, Patricia Smith, Jordan Fisher Smith, Lori Daniels, Brandi Dean & others. More info: http://www.mldse.org/p/conference-2017.html
April 29, Southern Tier Lyme Support, Inc's annual conference, Binghamton, NY. Speakers: Dr. Richard Horowitz, Dr. Kenneth Bock, Robert Giguere, and others. More info: https://www.southerntierlymesupport.org/2017-conference-info.html
May 18, 11th Annual Lyme Connection Patient Conference and Health Fair. Western Connecticut State University's Westside Campus, Danbury, CT.  More info: http://lymeconnection.org/
Please send information about upcoming events to newsletter@lymedisease.org.