NEWS: "Days of Action" for UNDER OUR SKIN; will you contact your local PBS station?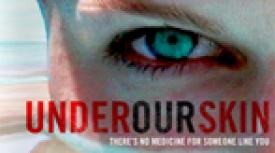 Here's an update on the airing of the Lyme documentary on PBS stations throughout the US. Producers of the film are asking for your help in contacting stations who haven't yet agreed to show it.
Dear Friends of UNDER OUR SKIN,
Many thanks to all of you who have worked hard to get UNDER OUR SKIN onto PBS stations this summer. Just for May and June alone, we have over 236 air dates covering almost half of the PBS markets!
We can already tell the broadcasts are making an impact. Every day we receive emails and phone calls from people who are encountering the film for the first time, thanking us for creating awareness around an urgent issue they knew little about.
Some of you may have heard the news that the WORLD channel (programmed through Boston's WGBH) decided to pull the film which had been scheduled in a number of places around the country on June 2nd and 3rd.  There has been some speculation circulating that this might have been due to IDSA influence. We had worried this was the case ourselves at first. But while the IDSA has actively tried to suppress the airing of UNDER OUR SKIN, in this instance, it does not seem to be the reason that the programmer decided to pull the film.
While we were very disappointed to hear of WORLD channel's decision, it does by no means prevent the other 354 PBS affiliates from programming it on their own. However, many local stations didn't program the film on their primary channels because they had thought it would air on the WORLD channel on June 2nd and 3rd.
That's why we are declaring June 2nd and 3rd UNDER OUR SKIN "DAYS OF ACTION". And asking you all to join us in calling PBS stations around the country and urging them (in a friendly manner, of course!) to broadcast the film.   Stations respond to the public's requests and they care about ratings. Let them know that, if they program it, you are willing to help spread the word to your community about the air date.
We encourage everyone to also write or call your local station to thank them if they have programmed the film and to encourage them to program it again and/or during a prime time slot.
You can use the PBS finder to find the contact information for the PBS stations in your area: http://www.pbs.org/stationfinder
These are the areas we could use particular support reaching out to:
Philadelphia, PA
Atlanta, GA
Detroit, MI
Phoenix, AZ
Seattle, WA
St. Louis, MO
Charlotte, NC
Baltimore, MD
San Diego, CA
Nashville, TN
Hartford, CT
Cincinnati, OH
Milwaukee, WI
Greenville, SC
Asheville, NC
San Antonio, TX
West Palm Beach, FL
Grand Rapids, IA
Birmingham, AL
Harrisburg, PA
Las Vegas, NV
Albuquerque, NM
Oklahoma City, OK
Greensboro, NC
Memphis, TN
Together we're making a difference.
All Best Wishes,
The UNDER OUR SKIN Team