TOUCHED BY LYME: Double your impact on #GivingTuesday, Nov. 28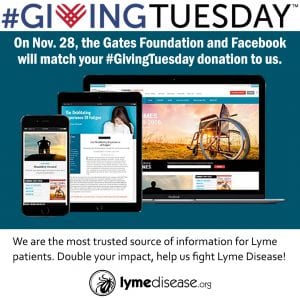 The Bill and Melinda Gates Foundation has teamed up with Facebook for this year's #GivingTuesday on November 28—pledging $2 million in matching funds to registered charities.
#GivingTuesday is a global day of generosity that follows the post-Thanksgiving, heavy shopping days of Black Friday and Cyber Monday.
And it's a remarkable opportunity for supporters of LymeDisease.org. Even the smallest gift can have a sizeable impact.
Here's how it works
The Gates Foundation and Facebook have each kicked in a million bucks to match charitable donations that are made that day via Facebook—up to $50,000 per non-profit organization. Facebook will also waive all fees for those donations.
For instance, if you give $1, $10 or $25 to LymeDisease.org, it will transform into a donation of $2, $20, or $50 in support of our advocacy work. Pretty nifty, huh?
Here's an example of what could happen. More than 31,000 people follow LymeDisease.org's Facebook page. If each of them were to donate ONE DOLLAR, that could result in more than $62,000 in support of our work.
And if some folks donate more than a dollar…and inspire their friends to contribute too…well, you see where I'm going with this. The shared impact of all those donations, big and small—combined with matching funds—will pack a mighty punch.
You can make your #GivingTuesday donations to LymeDisease.org starting at 8:00 a.m. Eastern Standard Time (5:00 a.m. Pacific Time).
There are several ways to do this
Click and Donate: Go the LymeDisease.org Facebook page and click on our DONATE button.
Post: Write a message on your own Facebook page and tag LymeDisease.org. You'll see a prompt to add a donate button after you post.
Live: Tap "Live" at the top of your news feed and click "Add Donate Button" from the menu.
How to get your donation matched
The donation must be made via one of the methods listed above.
Only the first $2 million in donations will be matched. Thus, early donations are best. Each recipient organization has a matching limitation of $50,000, with no more than $1000 per individual fundraiser or donate button.
The earliest you can donate in order to be matched is 8:00 a.m. EST on November 28, 2017. Try to be first in line!
After you've made your own contribution, please share the donate link via Facebook, Twitter and Instagram. Recruit your friends and family to donate to LymeDisease.org, too!
Let's harness the power of social media and turn #GivingTuesday into a big win for the Lyme community. And remember—giving early in the day will maximize the chance that your donation will be doubled.
TOUCHED BY LYME is written by Dorothy Kupcha Leland, LymeDisease.org's VP for Education and Outreach. She is co-author of When Your Child Has Lyme Disease: A Parent's Survival Guide. Contact her at dleland@lymedisease.org