Eagle Scout launches state-wide Texas tick drag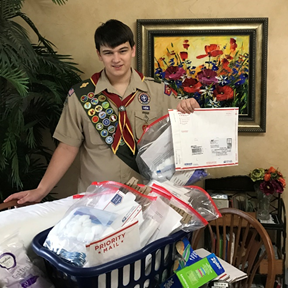 Press release from the Texas Lyme Disease Association, April 3, 2017:
Michael Kinsey was an energetic A and B student in the sixth grade enjoying basketball and camping with his buddies in Boy Scouts. On one camp out, he was bitten by a tiny tick. A few days later a classic bull's-eye rash developed.
Because until recently the Texas medical establishment has denied the existence of disease-carrying ticks in Texas, the rash was misdiagnosed. As additional symptoms developed, the significance was missed by multiple doctors in Texas. Michael was finally diagnosed out of state where doctors immediately recognized the combination of symptoms as Lyme disease. Fortunately, Michael is stubbornly positive.
What followed diagnosis were years of IV antibiotics to treat a raging systemic infection. Michael, who is now 17 and a high school junior, has received homebound instruction services since the eighth grade. He still hopes to be well enough to attend his senior year on campus.
His stretch dream is attending Duke University to play basketball on what he calls "the best college basketball team in the world." When asked about playing basketball at Duke without playing in high school his response is "Michael Jordan didn't play on the varsity team in high school."
It is this determined positive attitude which has carried Michael through years of painful illness. Now he is using his disease, his attitude, and a desire to help others to drive his project to earn Eagle Scout.
Michael learned that Texas A&M University has an ongoing project to map the presence of ticks across Texas and identify pathogens, including Lyme, which they may be carrying. Spring is prime time for emerging ticks as well as for camping in Texas. He approached Dr. Maria D. Esteve-Gassent, PhD who runs the Lyme Lab at A&M and asked how he could help in their research.
Following her instructions, Michael has engaged volunteers to produce tick drag kits to expedite out at no charge to Scout troops and anyone else wishing to participate in the A&M research. Once the ticks collected arrive at A&M they will be identified and processed by graduate students. Participants will have the satisfaction of knowing that their actions will be advancing both veterinary and human health in Texas.
Michael's Eagle Project will help A&M benefit every visitor and resident enjoying the Texas outdoors. He has set up a Web site – www.TickDrag.com – with instructions and additional information. Michael is requesting that cash donations go direct to A&M to offset the cost of DNA testing for pathogens. An anonymous donor has agreed to match donations up to $10,000 for this project.
The project hopes to generate samples from every county in Texas. "If I can help even one person avoid what I have gone through for the past six years it will be worth it," Michael says. His project is scheduled to run through peak tick season and end April 30, 2017.
Learn more about the Texas Lyme Disease Association.