NEWS: Australian tennis star/US Open Champ talks about her Lyme experience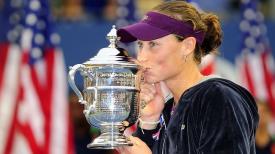 Four doctors at Wimbleton couldn't figure out what was ailing Sam Stosur when she got sick playing tennis. After she returned to her Florida home, she was diagnosed with a variety of illnesses, until a doctor finally figured out it was Lyme disease. After undergoing treatment, she eventually got back to playing tennis, and this year won the US Open. On her personal website, she blogs about what happened.
From the blog of Sam Stosur:
MY BATTLE WITH LYME DISEASE
Dec. 1, 2011 Sam Stosur
I first started getting symptoms in July 2007. I was at Wimbledon playing and woke up one day with a lump in the side of my neck. I got some tests done as they didn't know what it was and they weren't too sure what they were looking for. Nothing came out of the test.
As the next few days followed I got more symptoms, which included inflamed glands, puffiness in my face and neck, a rash all over my body, extreme tiredness, headaches, body aches, swollen hands and feet.
Each day I would have something new and the doctors weren't sure what was going on.
Click here to read the rest of her story.