NEWS: Complicated case of soldier diagnosed with Parkinson's, then Lyme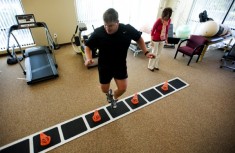 The Fayetteville Observer continues its coverage of a North Carolina soldier's controversial treatment for Lyme disease.
.
.
.
.
.
.
Soldier's spirit is fighting fit as he recovers from mysterious illness
By Greg Barnes
Staff writer
Published: 09:08 PM, Sat Mar 10, 2012
A year ago, Chris Harriss' hands shook so badly that he couldn't consistently place a small ball into a big basket.
He could barely climb stairs and couldn't drive a car. His speech became so slow and slurred that it was almost incomprehensible.
A year later, after controversial treatment for Lyme disease, Harriss seems to have made an almost complete recovery.
Click here to read the rest of the article.