Lyme disease as a journey to self-discovery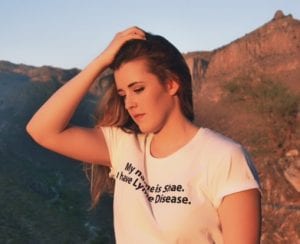 By Shae Couch
It all started one summer when I worked as a horse wrangler on a dude ranch in Colorado. Little did I know that an encounter with a tiny tick would put my life on hold the next several years.
When I came home after that summer to finish my last semester of college, I noticed some changes. I couldn't stay awake in class nor did I have the energy and stamina that my friends had. My body felt like dead weight most days. Figuring this was a touch of senioritis, I persevered.
When I started getting dizzy during workouts at the gym, even collapsing sometimes, I started searching for what could be wrong. This is where my journey to discovering Lyme began.
After being poked and prodded by a cardiologist, my heart checked out fine and I was sent to a lung specialist. Then I had a sleep study, one of the most uncomfortable nights I've ever been through.
Lungs and sleep checked out fine. I was told that I had chronic fatigue syndrome and that I was doing too much and needed to rest more. This was my diagnosis and so I believed it—until I became almost bedridden.
This thing called depression found me, and because I had never known it, I let it consume me. I can't explain to you the exhaustion I felt after doing something simple like running errands or going to lunch with a friend. When people would ask me what was wrong, I wanted to cry because I didn't know.
I was sleeping 12 hours a night and still needed naps every day. Sleep took over my life. I could no longer maintain strength in the gym and started to isolate myself. Dark thoughts consumed my mind such as: "It would be so much easier if I could just end this all." Nothing made me happy anymore.
Thankfully, my mother arranged for me to see her functional medicine practitioner. After analyzing my symptoms and running many tests, this doctor diagnosed me with Lyme disease and put me on a treatment protocol.
But that was nowhere near the end of my journey. I was diagnosed in September of 2015 and somehow managed to continue working full time as a horse trainer. Most days, I would take naps on my lunch break, finish working horses, and then take another nap before I left because I was too weak to drive home.
I remember walking through my front door to my tiny apartment one evening after work, sinking into the kitchen floor, and starting to hyperventilate from a desire to be done with it all. I wanted so badly for the depression, fatigue, and misunderstanding to end. I felt so alone in this. Finally, I sat there and prayed.
A few weeks later, my parents came down to visit me because they knew I had been struggling. My mother took one look at me and demanded I quit my job, come home and live with them.
A swell of emotion overtook me. Everything I had worked for in my career and school up until that point was disappearing right in front of my eyes! I had to put my entire life on hold for the next year to survive.
My doctor prescribed more supplements and medicines then I could imagine. I started getting acupuncture weekly and completely changed my diet. I slept the first three months I was home. I didn't know at the time, but this thing called Lyme disease has given my life a whole new purpose.
I still fight Lyme on a daily basis. There are some days where I can't do as much as I wish. Fatigue still taunts me and I have aches and pains throughout my body. Headaches are never far away and brain fog causes me to feel inept at times.
But I've learned a lot from this experience and I'd like to share those lessons with you. Here goes:
Weakness will not break you. What will break you is attempting to have the strength all the time and not allowing those who love you to be strong FOR you in those times of adversity.
Some of the worst things that happen to us can end up illuminating some of the greatest blessings in our lives. Before Lyme, I lived scared. Scared of what people thought of me, scared to lose my job. But now, I feel more freedom and don't care about what other people think of me. I have become bold in my own skin.
Energy and awareness is such a sweet thing. If you get to wake up everyday and have a chance to create your life, you are blessed. I also no longer take the feeling of being alive for granted.
It is easier said than done, and you hear it a lot, but BE present. I mean really, be IN THE MOMENT. Focus on those around you, stare at the love of your life, hang on to every word of advice a mentor gives you. I feel such peace knowing now that time here on earth is not wasted if you are spending it on those you love and fighting for your joy.
I want to leave you with this: You don't have to develop a chronic disease to come to these realizations. Be weak, be sad, be heartbroken, because those are all things that make us human. However, do not let those emotions and fears derail who you were meant to be.
My name is Shae and I am a Lyme disease warrior.
Shae Couch, 24, lives in Arizona. Photo by Stacie Stebbins.