NEWS: San Diego Lymewalk & Rally, Saturday, Oct. 19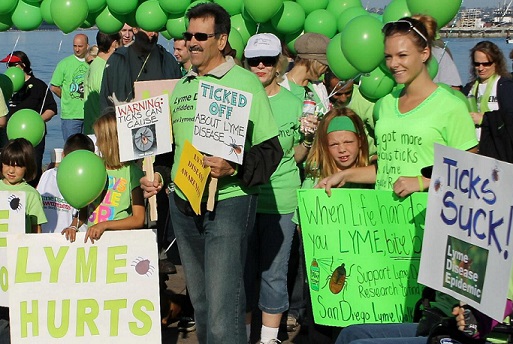 Live TV coverage, a stellar line-up of speakers, and a few surprises are in store this weekend at the seventh annual event.
LIVE TV Coverage
with Brooke Landau of San Diego 6 
The 7th Annual San Diego Lymewalk's new location, Vacation Isle East, is right next to Paradise Point Resort, where the ILADS conference is taking place. Free to attend. Registration not required. Channel 6's Brooke Landau will provide live coverage up til 10 am, and then join us at the rally after her morning show goes off the air.
The walk officially begins at 9 a.m. (but please come early for some pre-walk festivities!) with a rally at 11 a.m. In addition to being a rally speaker, Dr. Richard Horowitz will sign advance copies of his new book Why Can't I Get Better: Solving the Mystery of Lyme and Chronic Disease. Other speakers in the line-up include Brooke Landau (TV newswoman, Lyme survivor and national Lyme advocate), Lyme researcher extraordinaire Dr. Eva Sapi, the Lyme Policy Wonk Lorraine Johnson, noted LLMD Dr. Ray Stricker, San Diego's own Dr. Therese Yang, and Lyme authors Mara Williams ("Nature's Dirty Needle") and Katina Makris ("Out of the Woods: Healing Lyme Disease–Mind, Body and Spirit.") There will be a few surprises between the walk and the rally itself. We hope you'll join us for all of it!
Shirts, totes and wristbands for sale. Free parking. Gluten-free/Paleo Food Trucks will be by during lunch OR bring your own picnic. Click here for a map.