Response to Boston Globe editorial against the Lyme bill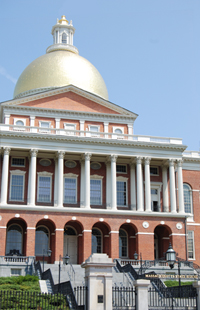 The Massachusetts Lyme Legislative Task Force responds to a recent editorial from the Boston Globe, which opposed legislation to require insurance coverage for treatment of Lyme disease.
March 29, 2016
Dear Editors of the Boston Globe:
We were disappointed by your March 28 editorial criticizing the Lyme disease bill (H901/S502, An Act Relative to Lyme Disease Treatment Coverage[i]). Your arguments levied against the bill are outdated in terms of the science. Recent studies indicate that the bacterium that causes Lyme does in fact persist beyond a short course of antibiotics[ii] [iii] and it has long been known that untreated or undertreated patients can go on to have disabling symptoms[iv] that can be relieved by an extended course of antibiotics[v]. 
It is important to note that "chronic Lyme disease," a complex and controversial entity, does not appear in this bill. Lyme disease — an infection with a bacterium that can have debilitating and even fatal complications if not treated early and adequately[vi] [vii] — is what is addressed. With over 50,000 new cases in Massachusetts each year, according to the Massachusetts Department of Public Health[viii], it is a serious threat in the Commonwealth, and far from rare. With possibly 36% of those patients going on to have debilitating symptoms, as found in one study[ix], it can be economically disastrous for the patients, their families, and Massachusetts, says a report in a CDC publication[x].
This bill does not propose that legislators determine the course of treatment, but leaves the decision up to the physician and patient, an approach which is consistent with evidence-based medicine[xi]. The International Lyme and Associated Diseases Society, in its guidelines listed on the National Guidelines Clearinghouse, recommends this approach[xii]. The Centers for Disease Control and Prevention noted in a large survey that 56% of Lyme patients reported being treated with over four weeks' worth of antibiotics[xiii]. For many, it works, and patients are able to return to work, to their families, and to their lives. 
Similar legislation has resided in the General Law of Rhode Island since 2004[xiv]. No one was reported harmed and the law became permanent after its sunset provision passed. We would welcome better testing and treatment for those who suffer. Until that time, the current bill will ensure that patients will not be cut off from their doctors' recommendations due to inability to pay. We hope that the editors of the Globewill reconsider joining the 140+ sponsors and cosponsors in both houses and both sides of the aisle in support of this important bill.
Sincerely,
The Massachusetts Lyme Legislative Task Force
Helen Brown – Whitman
Donna Castle – Ayer
Janice Dey – Westport
Susan Fairbank-Pitzer – Danvers
Sharon Hawkes, MLIS – Nahant
Jayme Kulesz – Groton
Sheila Statlender, Ph.D. – Framingham
[1] Linsky, D.P. (2015). An Act Relative to Lyme Disease Treatment Coverage [electronic version]. Retrieved March 28, 2016 from https://malegislature.gov/Bills/189/House/H901
[1] Embers et al, (2012). Persistence of Borrelia burgdorferi in rhesus macaques following antibiotic treatment of disseminated infection [electronic version]. PLoS ONE 7(1): e29914. Retrieved March 28, 2016 from http://www.ncbi.nlm.nih.gov/pubmed/22253822
[1] Sharma, B. et al (2015). Borrelia burgdorferi, the causative agent of Lyme disease, forms drug-tolerant persister cells [electronic version]. Antimicrobial Agents and Chemotherapy 59(8): 4616-24. Retrieved March 28, 2016 from  http://www.ncbi.nlm.nih.gov/pubmed/26014929
[1]  Logigian, E. L., Kaplan, R.F., and Steere, A.C. (1990). Chronic neurologic manifestations of Lyme disease [electronic version]. New England Journal of Medicine 323, 1438-1444. Retrieved March 28, 2016 from http://www.nejm.org/doi/full/10.1056/NEJM199011223232102
[1] Cameron, D. (2008). Severity of Lyme with persistent symptoms. Insights from a double-blind placebo-controlled clinical trial. Minerva Med 99(5), 489-496.
[1] Shadick, N.A. et al (1994). The long-term clinical outcomes of Lyme disease: a population-based retrospective cohort study. Annals of Internal Medicine 121(8), 560-567.
[1] Muehlenbachs, A. et al (2016). Cardiac tropism of Borrelia burgdorferi: an autopsy study of sudden cardiac death associated with Lyme carditis. The American Journal of Pathology (16), 00099-7.
[1] Lyme Disease in Massachusetts: A Report Issued by the Special Commission to Conduct an Investigation and Study of the Incidence and Impacts of Lyme (2013). Retrieved March 28, 2016 from https://malegislature.gov/Content/Documents/Committees/H46/LymeDiseaseCommissionFinalReport-2013-02-28.pdf
[1] Aucott, J.N., Rebman, A.W., Crowder, L.A., and Kortte, K.B. (2013). Post-treatment Lyme disease syndrome symptomatology and the impact on life functioning: is there something here? [electronic version]. Quality of Life Research 22(1), 75–84. Retrieved March 28, 2016 from http://www.ncbi.nlm.nih.gov/pmc/articles/PMC3548099/
[1]Zhang, X. et al (2006). Economic Impact of Lyme disease [electronic version]. Emerging Infectious Diseases 12 (4), 653-660. Retrieved March 28, 2016 from http://wwwnc.cdc.gov/eid/article/12/4/pdfs/05-0602.pdf
[1] Armstrong, E.C. (2003). Harnessing new technologies while preserving basic values. Families, Systems, & Health 21(4), 351-355. See http://med.fsu.edu/index.cfm?page=medicalinformatics.ebmTutorial
12 Cameron, D.J., Johnson, L.B., and Maloney, E. L. (2014). Evidence assessments and guideline recommendations in Lyme disease: the clinical management of known tick bites, erythema migrans rashes and persistent disease [electronic version]. Expert Review of Anti-infective Therapy 12 (9). Retrieved March 28, 2016 from http://www.tandfonline.com/doi/full/10.1586/14787210.2014.940900
[1] Hook, S., Nelson, C., and Mead, P. (2013). Self-reported Lyme disease diagnosis, treatment, and recovery: Results from 2009, 2011, & 2012 HealthStyles nationwide surveys. Presented at the 13th International Conference on Lyme Borreliosis and other Tick-Borne Diseases, Boston, MA, August 19, 2013. Quoted in http://www.poughkeepsiejournal.com/story/news/health/lyme-disease/2014/03/28/lyme-antibiotics-protocols/7008045/
[1] RI Gen L § 5-37.5-5 (2014). Mandatory coverage for certain Lyme disease treatments [electronic version]. Retrieved March 28, 2016 from http://law.justia.com/codes/rhode-island/2014/title-5/chapter-5-37.5/section-5-37.5-5/