NEWS: "Red Shoe Day" to honor those lost from Lyme disease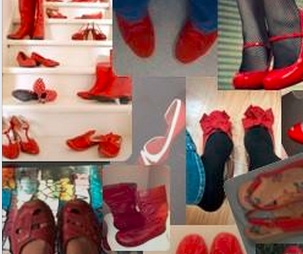 Australian Lyme advocates have declared July 25 as Red Shoe Day, in remembrance of those who have passed away from Lyme and other "invisible illnesses."
From the Worldwide Lyme Borreliosis Association:
.
Red Shoe Day was established in memory of Australian Lyme (previously ME/CFS diagnosis) Patient, Theda Myint who left this earth on the 25th July 2013. It is envisaged that this day will become an annual remembrance day to remember not only Theda, but all those lost to Lyme and other invisible illnesses worldwide.Red shoe day, to be held on July 25th is to remember all those we have lost to invisible illness such as Lyme, ME/CFS, Fibromyalgia and the many more illnesses that are invisible.
In the broad sense of the term, invisible illnesses are those that are generally "invisible", not only from the outward appearance of the person, but also seemingly invisible to appropriate research, treatment and care of the thousands of people that are living with them. Many living with these illnesses are also "invisible" to society, as their health is such that they are confined to their houses, (and many to their beds) for months, even years.
The online communities and support groups are a lifeline to many who are unable to leave their beds/houses and are also an excellent source of information for those looking for support in discussing treatment pathways and coping strategies. The people within these communities/groups understand the struggles and adversity with very little explanation. Finding "someone like you", leads to many friendships being developed, and the loss of someone from this community is felt by many, even those on the other side of the world.
Each death brings a heightened sense of anger (and a numerous range of other feelings) at the injustice of their illness being ignored. It is also hard, as whilst many offer comfort to those affected, it also brings a sense of ones own mortality (or that of the loved one you are caring for) to the fore.
We would therefore like to encourage the view that whilst the 25th of July is for remembering all those lost, it is not only to remember their passing, it also to celebrate their life and to remember and share the wonderful memories their time on this earth gave us.
As well as this online event we are also encouraging people to organise casual get togethers ; whether that be organising a gathering at the beach, having a BBQ, or even a small morning (afternoon) tea at home… Its all about getting together and spending time remembering the wonderful things about the lives of those no longer with us.
Please note: Due to international time changes – event will start Friday the 25/7/2014 Australian time – and run for the week-end to accommodate all time zones for the 25th July.