Will your PBS station be showing UNDER OUR SKIN?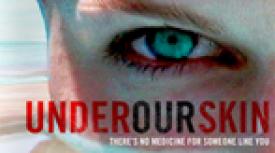 Many PBS stations will be showing the Lyme documentary, starting next month. Can you check to see if it's scheduled in your area? If it isn't, please contact them and ask for it. Here are links on how to do that.
From Open Eye Pictures: 
Dear UNDER OUR SKIN Supporter,
Just a quick update to let you know that starting next month the multi award-winning UNDER OUR SKIN will be airing on many PBS stations across the country, and every day more and more stations are programming the film.
We're asking you to check to see if the film is scheduled to show in your area. If your local PBS station has not scheduled the film, please contact them and ask them to show it. Many of the stations that are broadscasting UNDER OUR SKIN agreed to schedule it after receiving a handful of calls from viewers in the community. And if you are willing to help spread the word in your area about an upcoming broadcast, please be sure to mention that to your PBS affiliate so they will know there is local support for the film.
For local PBS station contact information, click here.

Questions? Please click here to email us.
Thank you. With your help, we look forward to a successful kickoff of the TV broadcast of UNDER OUR SKIN during Lyme Disease Awareness Month.
Sincerely,
The UNDER OUR SKIN Team