Online LymeMIND conference on Oct. 10. Free, but you must register.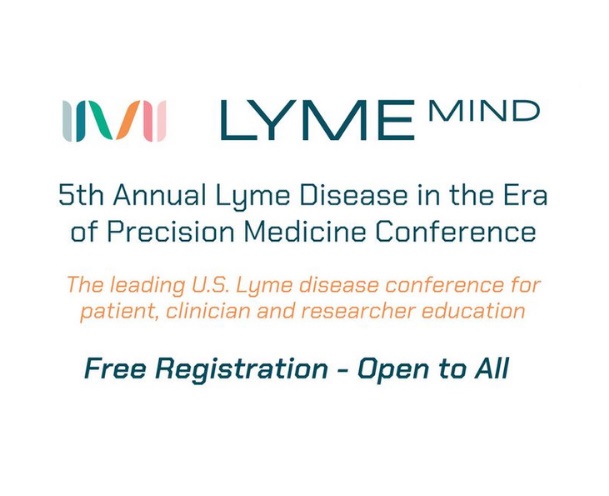 Registration is open for the 2020 LymeMIND conference, to be held virtually on Oct. 10. It's free to attend, but you must register.
Keynote speakers will be Dr. Steven Phillips and Dana Parish, co-authors of Chronic: The Hidden Cause of Autoimmune Pandemic and How to Get Healthy Again. The book reveals striking evidence that a broad range of microbes, including the Lyme bacterium, cause a variety of recurrent conditions and autoimmune diseases.
Tune in for a discussion of the science behind common infections that are difficult to diagnose and treat, as well as solutions that empower sufferers to reclaim their lives. This 20-minute presentation will be followed by a live Q&A session.
Novel treatments–Making Sense of Treatment Options
Returning LymeMIND speakers Richard Horowitz, MD, John Aucott, MD and Andrew Petersen, DO will be joined by Tania Tyles Dempsey, MD, ABIHM for a discussion on the latest research into treatment options for Lyme disease. This panel will explore differences in current treatment options – CDC vs. ILADS, critical time points from tick bite to chronic symptoms that patients should consider and the latest research on treatment options.
The 30-minute discussion will be moderated by Dr. Aucott and followed by a 10-minute live Q&A session.
Mothers & Children
Panelists Holly Ahern, State University of New York, Sue Faber, RN, Co-Founder of LymeHope, Dr. Charlotte Mao, Pediatric Infectious Disease Specialist, Spaulding Rehabilitation Hospital/Massachusetts General Hospital, and moderator Phyllis Bedford, Founder and Executive Director at LymeLight Foundation, will explore key questions on the impact of Lyme on mothers and children, including:
How can we detect and treat Lyme and tick-borne diseases in children?
What are the special considerations for children?
Children are the most at-risk population in the U.S., how do we prevent infection?
What should pregnant and new mothers do if they have (or suspect they have) Lyme or TBD?
This will be a 20-minute panel followed by a 10-minute live Q&A session.
Other topics
There will be additional presentations on Bartonella, co-infections, the Lyme Biobank, and Lyme disease legislation.
Click here for a complete agenda and registration information.