NEWS: "Mystery disease cover-up?" Australian TV looks at Lyme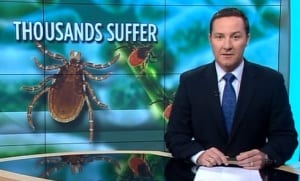 Australian health authorities say Lyme disease doesn't exist in their country, so doctors don't diagnose or treat it.
The Australian TV news show "Today Tonight" takes a hard-hitting look at Lyme disease. This two-part series profiles a number of Australians who suffer from the illness, as well as those who are working to change things.
Part 1–Mystery disease coverup?
Part 2–Lyme disease victims ignored