LYME SCI: How should Lyme community respond to the coronavirus?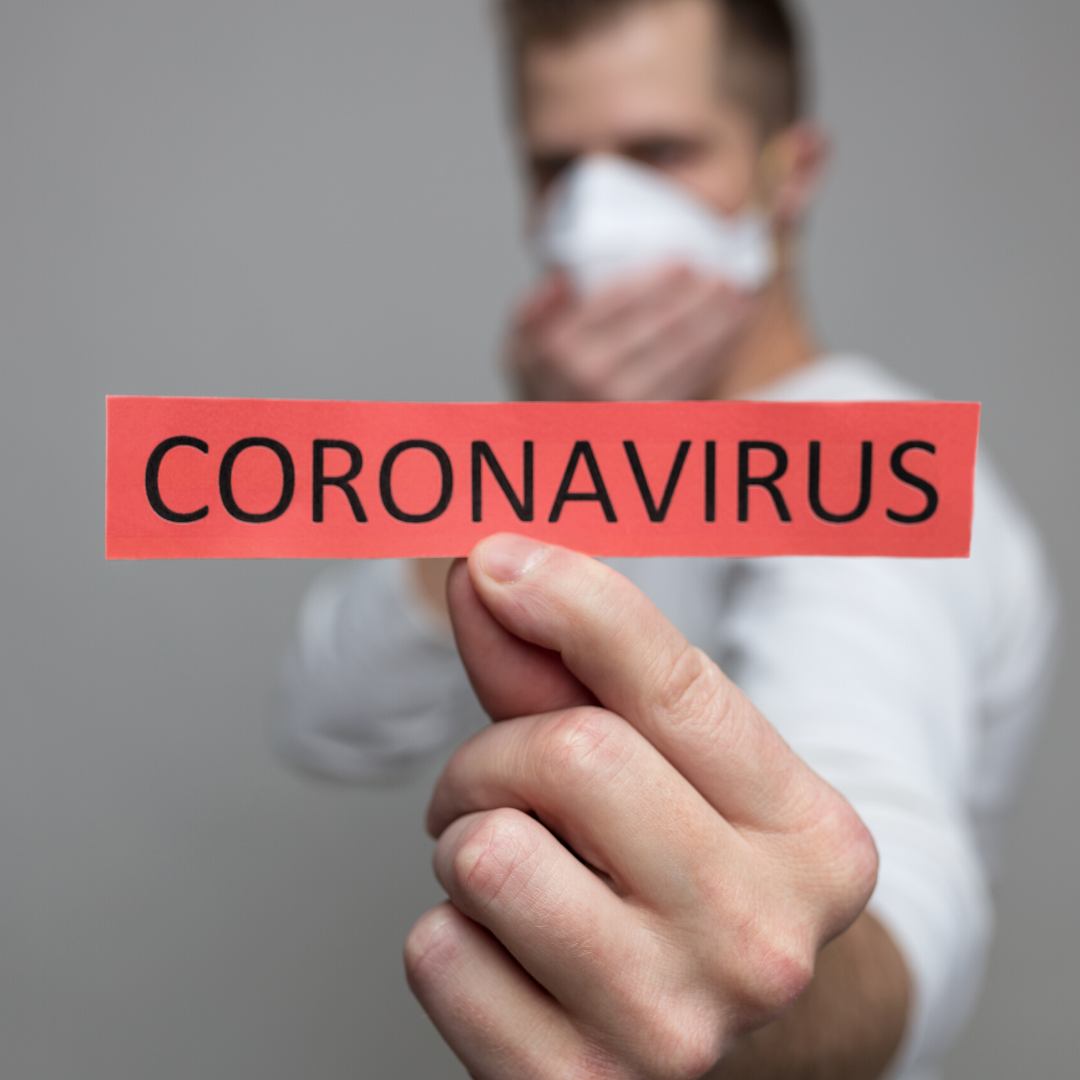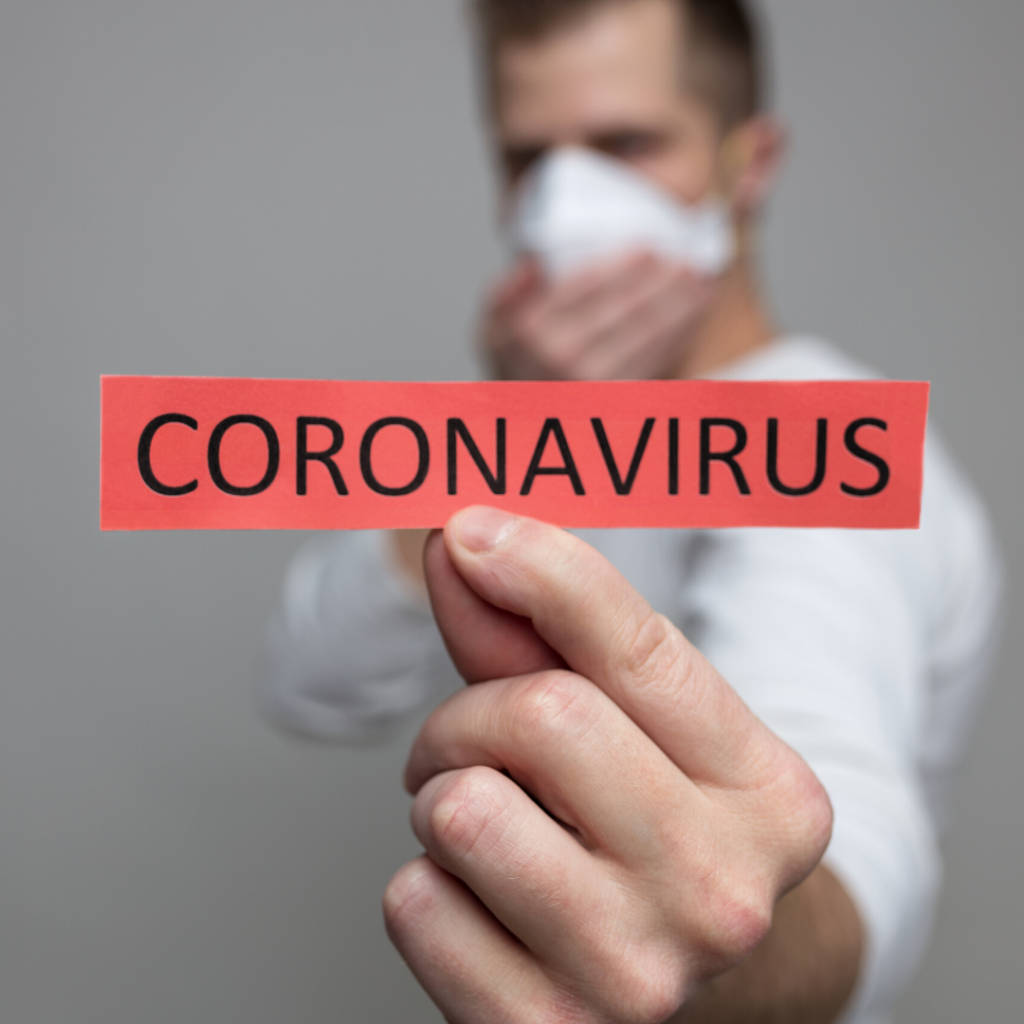 The world is currently in the midst of a coronavirus epidemic that is fraught with rumors, gossip and unreliable information.
Because people with Lyme disease may be immunocompromised and thus more susceptible to infection, I'll share what I've learned about the coronavirus and what you can do to protect yourself and your community.
A little history of coronavirus
The first human coronavirus was discovered in the 1960s as one of the causes of the common cold. There are hundreds of other viruses linked to upper respiratory infections, including rhinoviruses and flu viruses.
The current coronavirus causes "coronavirus disease 2019," abbreviated COVID-19. It can cause a more severe respiratory illness in humans than the average coronavirus. At the worst, COVID-19 can cause pneumonia in both lungs, multi-organ failure and in some cases, death.
The CDC web page shares what is currently known about COVID-19.
Who is at risk?
As with all viral illnesses, everyone who interacts with others is at risk for getting coronaviruses. And just like the flu, certain people are at a higher risk for developing severe illness.
This virus started in China and spread without detection at first. Because we live in a world where people can easily travel great distances, the virus began showing up across the globe. So while you may not have traveled to an area with high risk, you may be exposed by a traveler who has returned from an infected area.
Based on preliminary WHO information, those at the highest risk for developing serious complications or death from COVID-19 include:
Older people (especially those over 60)
People with serious medical conditions like:

Cardiovascular disease (heart disease)
Chronic respiratory disease (lung disease)
Hypertension (high blood pressure)
Diabetes
Cancer
Those who are immunocompromised
In this video, Dr. Steven Bock talks about why Lyme patients (and others with compromised immune systems) are more prone to infections like COVID-19.
How to minimize the spread of COVID-19
When the first cases of COVID-19 were reported in my state, I ramped up a protocol that my family has used to protect my daughter from the flu for the past eight years, since she first was diagnosed with an impaired immune system. I wrote about my flu-season protection tips here.
Social distancing can help
I recently watched a live-streamed talk on the coronavirus by Michal Tal, an immunologist and instructor of Stem Cell and Regenerative Medicine at Stanford University. She used the 1918 flu pandemic as an example of what we should and should not do today.
During World War I, cities were pushed to sell bonds to help pay for the war. As part of that effort, Philadelphia threw a huge parade, with 200,000 people filling the streets. Within three days, every bed in Philadelphia's 31 hospitals was filled. Within two weeks, more than 4,500 of those people died.
In contrast, the city of St. Louis took drastic measures to slow the spread of flu by closing schools, churches, theaters and large public gatherings. They had a much better outcome. Throughout the country, cities that quarantined influenza-impacted households and practiced other forms of "social distancing," saw death rates significantly lower than those that did not.
The following slide shows the two scenarios.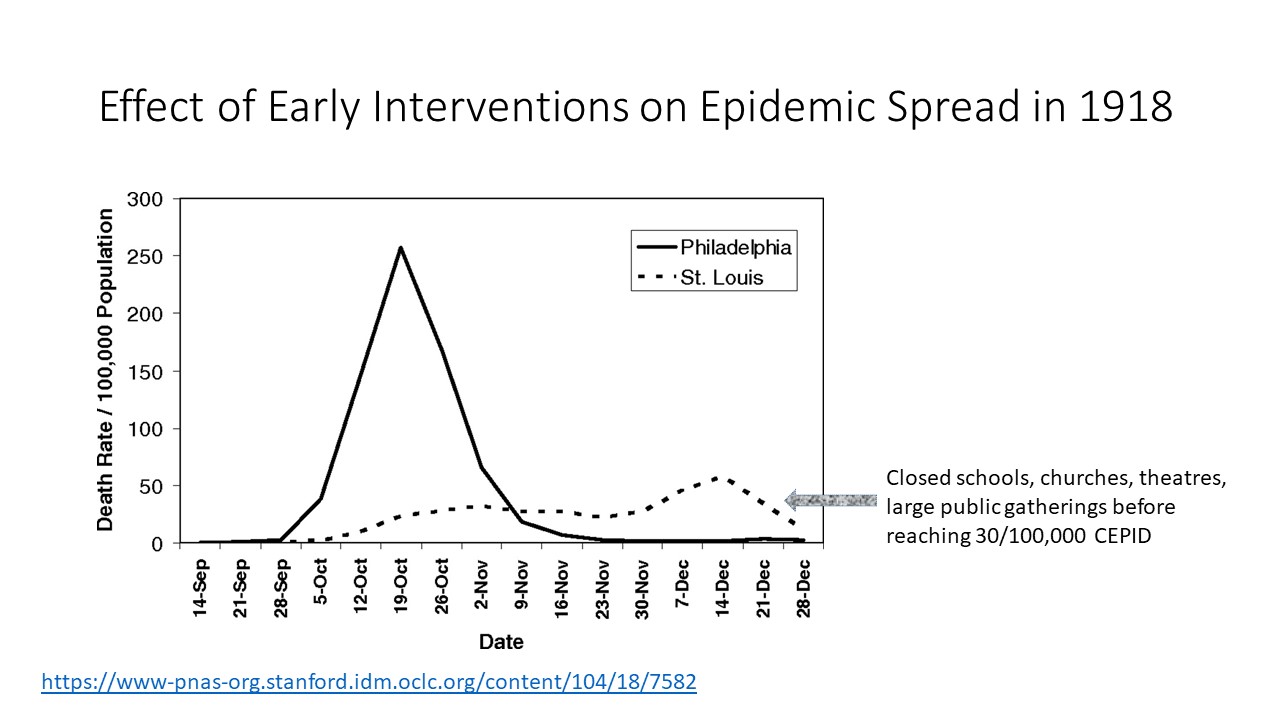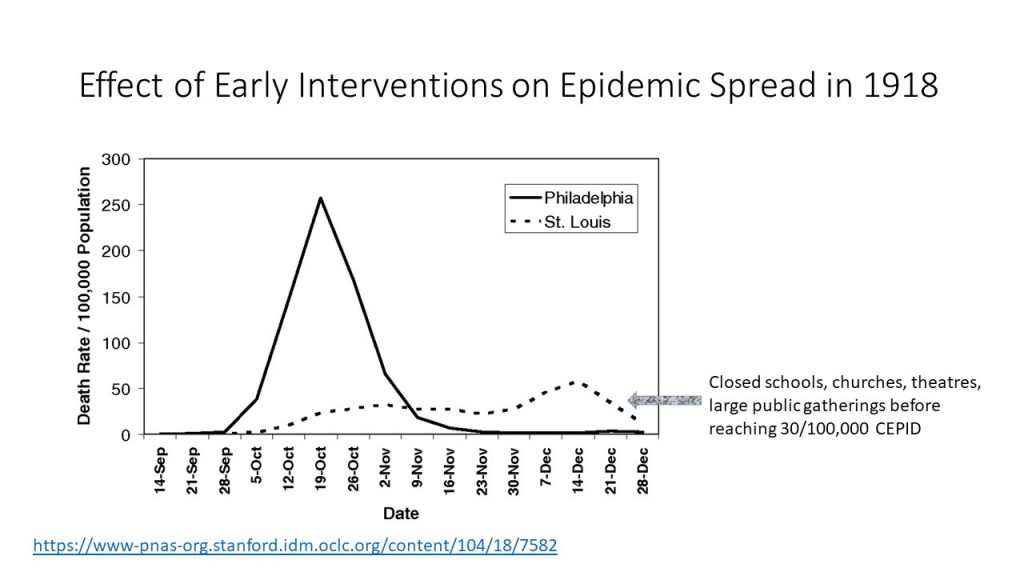 By avoiding unnecessary travel and staying out of crowded places, you can help slow the spread of COVID-19. The following slide from Dr. Tal's talk shows how slowing the spread of infection allows time for the healthcare system to keep up.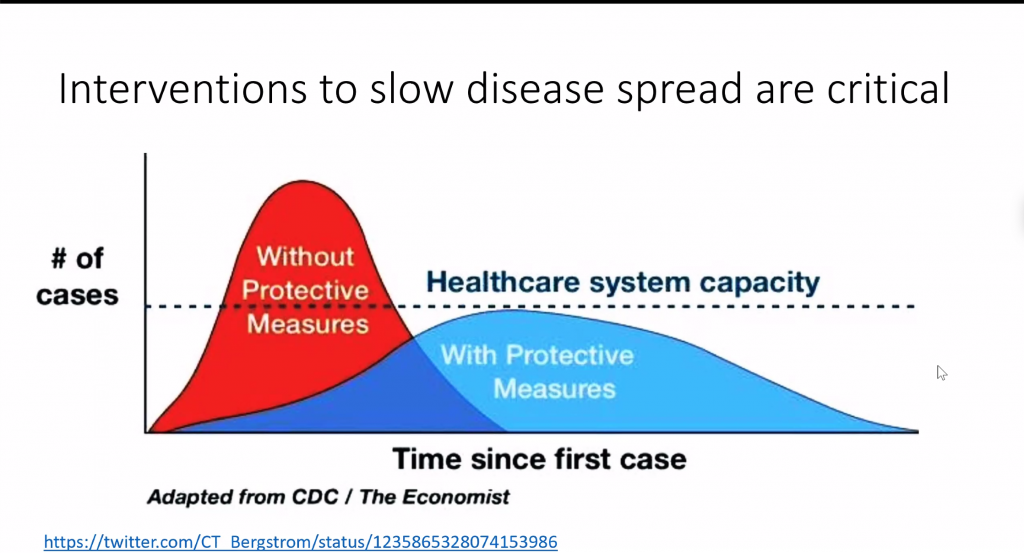 Dr. Tal explained, "If we do nothing, if we institute no drastic protective measures right now, if we just do business as usual, this will blow up very quickly. Then…we are going to exceed the capacity."
She continued, "What we do need here is a cautioned precautionary response, which will help us reduce the spread, or at least spread that infection rate over time as much as we can."
How to self-quarantine
This week, thousands who may have been exposed to the coronavirus have been asked to quarantine themselves. This means:
You must stay home unless you become so ill you need to see a doctor.
No work, no school, no church, no social events, and no shopping. If you don't have supplies, you will need someone to bring them to your doorstep.
If you live with others, you must stay in your room. If you need to come out of your room, you must wear a mask.
The WHO reminds us that communities are powerful. "They can detect outbreaks and help…prevent epidemic amplification. They are able to implement mitigation measures (through change of individual and family practices change; implementing community measures and enabling changes at the systems level) to bring all epidemics under control."
Here's my plea to the Lyme community: let's do everything within our power to help slow this thing down and keep ourselves protected.
LymeSci is written by Lonnie Marcum, a Licensed Physical Therapist and mother of a daughter with Lyme. Follow her on Twitter: @LonnieRhea  Email her at: lmarcum@lymedisease.org .
References:
CDC | Coronavirus Disease 2019
Center for Biocide Chemistries | Novel Coronavirus (COVID-19)—Fighting Products
European Centre for Disease Prevention and Control (ECDC) | Interim guidance for environmental cleaning in non-healthcare facilities exposed to SARS-CoV-2
World Health Organization | Managing Epidemics: Key facts about major deadly diseases.
Pandemics: Risks, Impacts, and Mitigation – Disease Control Priorities: Improving Health and Reducing Poverty – NCBI Bookshelf