NEWS: Ticked Off Music Fest comes to Los Angeles on March 28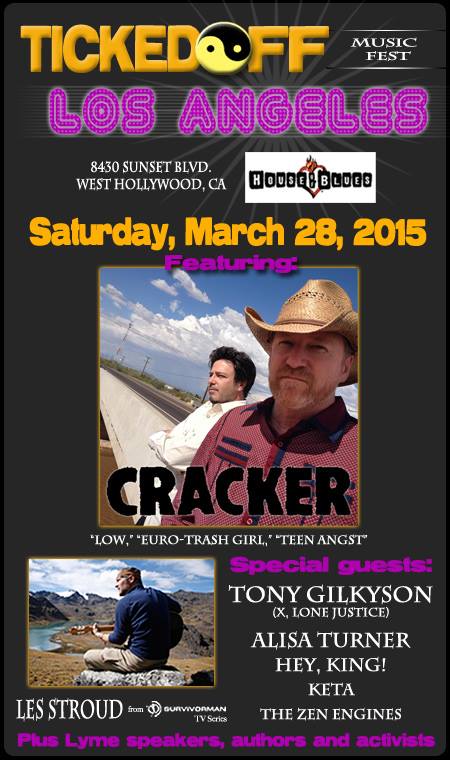 The House of Blues on Sunset Strip is the location of a concert to benefit three Lyme disease organizations.
The music line-up features platinum-selling recording artists Cracker. The band is best known for its 1991 release "Cracker," featuring "Happy Birthday to Me" and "Teen Angst," followed by its 1993 release "Kerosene Hat," featuring "Low" and "Euro-Trash Girl." The band is currently promoting its latest release "Berkeley to Bakersfield."
Special guest is Les Stroud from the "Survivorman" TV series. Les and his full band will play songs from his recent solo releases and also field audience questions about his TV show.
Also appearing is Lyme activist, author and lead singer Natalie London and her band Hey, King! LA native and former X andLone Justice guitarist Tony Gilkyson will play his brand of alternative country. Nashville-native Alisa Turner will play her breakout hit "Breathing" about her own struggles with Lyme disease.
Sixteen year-old Lyme survivor and singing sensation Keta will play her original tunes. She will be coming off of a West Coast tour where she opened for platinum-selling artist Sam Smith. Gregg Kirk and The Zen Engines will play songs from the band's recent CD releases, all inspired by his healing journeys through Lyme disease.
The fest will also feature several well-known speakers from the Lyme community, including "Out of the Woods" author Katina Makris and Inanna House founder Mara Williams.
The evening starts at 5 p.m. and goes to midnight. Live music, Lyme speakers, and a soul food buffet, prepared by the House of Blues and catering to meat eaters, vegans, vegetarians and those on a gluten-free diet.
The Ticked Off Music Fest Los Angeles event is sponsored by the Bay Area Lyme Foundation, Insect Shield, and LA Weekly. Proceeds from the event will benefit LymeLight Foundation, LymeDisease.org, and Inanna House.
Click here for ticket information.
Click here for the Ticked Off Music Fest website.