Is your local Lyme education event on this list?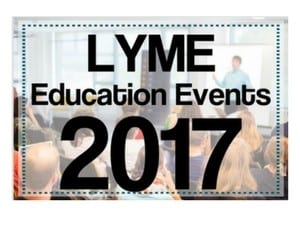 The following list is updated weekly.  
March 13, "The State of Lyme & Tick-borne Diseases in 2017," Mt. Laurel, NJ. Larchmont School PTO presents Patricia Smith, President of the Lyme Disease Association. https://www.facebook.com/events/134076843711511/
March 18, Oregon Lyme Disease Network's Willamette Valley Group, Eugene, OR. Guest Speaker: ILADS member Dr. Usha Honeyman.  https://www.eventbrite.com/e/oregon-lyme-disease-network-presents-international-lyme-and-associated-disease-speaker-usha-honeyman-tickets-31721943186?aff=es2 
March 25, "Unraveling the Mystery of Lyme Disease," NW Lyme Patient Workshop, Spokane, WA 99202 Speakers: Dr. Marty Ross, author of The Treat Lyme Book and patient/advocate Melanie Boylan.  http://www.nwlymepatientworkshop.com/
March 29 & 30. Two special screenings of new documentary "My Kid is Not Crazy," sponsored by New England PANS/PANDAS Association. March 29: Foxboro, MA; March 30: Fairfield, CT. (PANS/PANDAS can affect children with Lyme disease and other infections, triggering OCD, tics, other neuropsych symptoms.) http://www.nepans.org/my-kid-is-not-crazy.html
April 2, "Update on the Nanotrap nanotechnology and Lyme Disease," NatCapLyme's Esteemed Speaker Series, Washington D.C. Speaker: ILADS president Dr. Sam Shor. http://natcaplyme.org/events/samuel-m-shor-m-d-presents-to-natcaplyme/
April 8, "MyLymeData2017: Overcoming Lyme Disease." San Ramon, CA (San Francisco Bay Area). Speakers: Lorraine Johnson, Dr. Raphael Stricker, Dr. Christine Green, Dr. Raj Patel, Dr. Jennifer Sugden. https://www.lymedisease.org/mylymedata2017-april8/
 April 24, "The ABCs of Lyme Disease," Vienna, Virginia. Sponsored by the James Madison High School PTA and a committee of parents of students with Lyme. http://www.thoreaupta.org/parent-resources/parent-program-series/
April 29, Midcoast Lyme Disease Support and Education Conference, Wiscasset, Maine. Speakers: Dr. Kenneth Liegner, Patricia Smith, Jordan Fisher Smith, Lori Daniels, Brandi Dean & others. http://www.mldse.org/p/conference-2017.html
April 29, Southern Tier Lyme Support, Inc. annual conference, Binghamton, NY. Speakers: Dr. Richard Horowitz, Dr. Kenneth Bock, Robert Giguere and others. https://www.southerntierlymesupport.org/2017-conference-info.html
April 29-30, 10th Annual Medical & Scientific Conference on Morgellons Disease, Austin, TX. Speakers: Dr. Ginger Savely, Dr. Raphael Stricker, Dr. Eva Sapi, others. Participants are encouraged to stay over for a May 1 rally at the Texas State Capitol. http://www.thecehf.org/morgellons-2017-conference/
May 18, 11th Annual Lyme Connection Patient Conference and Health Fair. Western Connecticut State University's Westside Campus, Danbury, CT. Speakers: Dr. Thomas Moorcroft, Dr. Elena Frid, and Dr. Eva Sapi.  http://lymeconnection.org/
May 22, "The Little Things: One family's battle with Lyme disease," Glen Falls, NY. Docudrama based on the life of Joseph Elone, a New York teenager who died from unrecognized Lyme disease. More details to follow. https://storyhorsetheater.org/our-stories
May 25, Dr. Joseph Brewer will present updates on his research into virus re-activation and immune system suppression, mold, Lyme and other chronic illnesses. Kansas City, MO. Sponsored by the Lyme Association of Greater Kansas City, Inc. http://www.lymefight.info/
Send announcements about upcoming education events to newsletter@lymedisease.org.