NEWS: Lyme advocate works to spread awareness & to "turn a negative into a positive."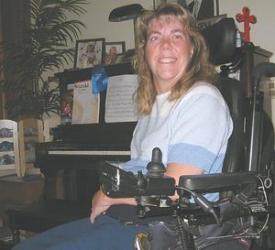 New York activist Lis Heininger founded a local Lyme advocacy chapter, and educates others how to avoid tick-borne diseases.
From the Corning Leader:
Corning woman spreads awareness of Lyme disease
By Derrick Ek
Corning Leader
Posted Aug 05, 2011 @ 08:51 PM
Last update Aug 06, 2011 @ 01:10 PM
Corning, N.Y. — Lis Heininger believes she was infected with Lyme disease as a little girl, when she developed a strange rash during a camping trip in New England. Back then, though, hardly anybody knew of the tick-borne illness, and she wasn't treated for Lyme.


For more than 30 years, her health deteriorated, and she never knew why. She "slipped through the cracks," as she puts it. She experienced all kinds of health problems that eventually left her disabled.
It wasn't until about 10 years ago that Heininger, 45, was diagnosed with Lyme disease, and only after a friend suggested she get tested. She took antibiotics and her symptoms immediately lessened. However, she was well into late-stage, chronic Lyme disease, which is tough to recover from.
Since early diagnosis and treatment – ideally right after infection – is crucial to a person's chances of recovery, Heininger has been tirelessly working to spread Lyme awareness for the past six or seven years.
"It's turning a negative into a positive," she says. "I don't want anybody else to go through what I've been through. If I could just prevent one person from having these problems, then it's worth it."
Heininger is the founder of the Corning-Finger Lakes chapter of the Lyme Disease Association, a New Jersey-based national advocacy group.