NEWS: Why you should care about ILADS conference even if you're not a doctor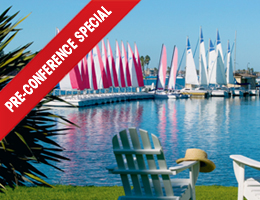 This year's ILADS conference will be in San Diego, October 18-20.
One of the most significant events in the Lyme community is the annual convention of the International Lyme and Associated Diseases Society, (ILADS). It's where top researchers and clinicians come together to present state-of-art knowledge about treating tick-borne diseases. It's a way for both experienced practitioners and those new to treating Lyme and coinfections to learn and network. If you are a patient who has been treated by a Lyme-literate medical professional, you have benefited from the results of past ILADS conferences. If you are still being treated, you will benefit from the upcoming ones as well.
This year's event will be held in San Diego, the third week of October. Here's some of what's in store:
Thursday, October 17. Pre-conference special session on Lyme Basics. Targets medical professionals who are new to the treatment of tick-borne diseases, and those who want a refresher course on the basics of diagnosis and treatment. It will also serve as a primer for physician assistants and nurse practitioners who work in the offices of Lyme literate physicians.
Friday, October 18-Sunday, October 20. 14th Annual Conference. Designed to foster collaboration and dialogue between Lyme disease researchers and those who care and advocate for Lyme disease patients in a variety of settings. The conference will provide updates in clinical knowledge and treatment techniques. Innovations in care will be addressed in plenary sessions and workshops.
Saturday, October 19, first annual Gala Award Dinner. Join some of the world's leading Lyme disease researchers and practitioners in this charity event for ILADEF. (This non-profit educational foundation raises funds to train physicians in the diagnosis and treatment of Lyme and other tick-borne diseases.)
This year's gala honors Nick Harris, PhD, a pioneer in the fight against Lyme disease. Dr. Harris, the founder of IGeneX, Inc., developed a ground-breaking diagnostic test for Lyme disease in the 1990s, which has helped untold thousands of Lyme patients get accurately diagnosed. His company continues to be a leader in testing for tick-borne diseases. A founding member of ILADS and a board member of LymeDisease.org, he has shared his knowledge and expertise to help physicians and patients around the world. He also created LymeTAP, a program providing financial assistance to patients for Lyme diagnostic tests.
Also on Saturday October 19, concurrent with the ILADS conference, the San Diego Lyme support group and LymeDisease.org are sponsoring a Lymewalk and rally at the park right next to where the conference is going on. Several top ILADS docs will speak at the rally. Among others, you'll hear from Dr. Richard Horowitz and have a chance to purchase a signed copy of his new book Why Can't I Get Better? Solving the Mystery of Lyme and Chronic Disease. (More information about this event will be forthcoming soon.)
Usually, the ILADS conference is held on the east coast, most recently in Boston, Toronto, and the greater New York City area. Having it in San Diego this year provides a great opportunity for west coast medical practitioners to attend.
Do you know an MD or other medical professional who would benefit from attending this conference? If so, refer them to the www.ilads.org for registration information. LymeDisease.org provides a number of educational grants for first-time attendees to help defray expenses. That information is at the ILADS site as well.