This holiday season, give the gift of patient power!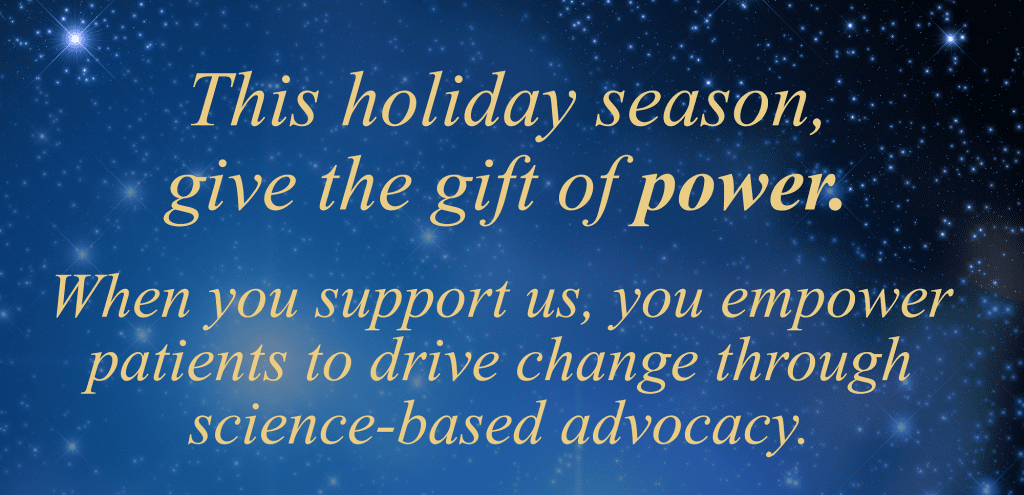 In partnership with people like you, LymeDisease.org:
Has created the MyLymeData patient registry, now the largest study of Lyme disease in history. It allows patients to crowd source and pool their healthcare data to help find a cure and help us better understand why some patients get well with certain treatments while others remain ill. A team of academic researchers from UCLA and Claremont McKenna were granted $800,000 by the National Science Foundation, to explore big data techniques using information from the registry.
Empowers advocacy. We engage large numbers of individual patients on the issues that matter to them by providing them with tools to contact their legislators. For example, over 14,000 patients used our Voter Voice to contact lawmakers to form the federal Tick-Borne Working Group. Over 11,000 people joined us in a successful effort to remove Dr. Gary Wormser from that panel, due to his significant financial conflicts of interest. Over 7,000 local patients joined us to help pass the Massachusetts insurance bill.
Provides a Symptom Checklist, to educate patients and their doctors about Lyme disease, leading to earlier diagnosis and treatment.
Is the go-to source for trustworthy Lyme information.Our website, blogs, videos and social media postings keep patients and their advocates up-to-date on new developments.
Spreads the word about Lyme disease–on the web, via the digital Lyme Times, in the news media, in Congress, at scientific conferences and in medical journals.
Help us continue this vital work. Make a year-end donation today!