Girl with Lyme blessed by Pope, but not by insurance companies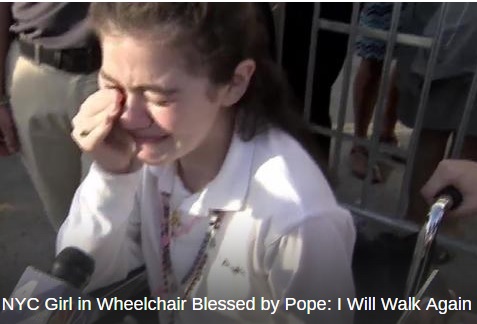 WNBC-TV in New York looks at the frustrating case of Julia Bruzzese, a wheelchair –bound 12-year-old who was blessed by the Pope during his US visit in September. She has since been diagnosed with Lyme disease and has started treatment. But, citing the IDSA Lyme guidelines, her insurance company refuses to pay for treatment.
WNBC-TV, Dec. 3, 2015:
From WNBC-TV, New York, Dec. 3, 2015:
By Pei-Sze Cheng
When Pope Francis touched down at Kennedy Airport, 12-year-old Julia Bruzzese was there to greet him. Sitting in her wheelchair, the pontiff put his hand on her forehead and blessed her.
"It means that he's going to give me a miracle, to walk again," the teen told NBC 4 New York afterward on Oct. 24, fighting back tears. "I know I will walk again because of him."
And a miracle of sorts did happen, at least, in her opinion.
Dr. Ronald Stram in upstate Delmar, just outside Albany, was watching Julia and reached out to her family because he believed he could help. READ MORE.