Earning a living with chronic Lyme: "I'm not going to make it out of bed today."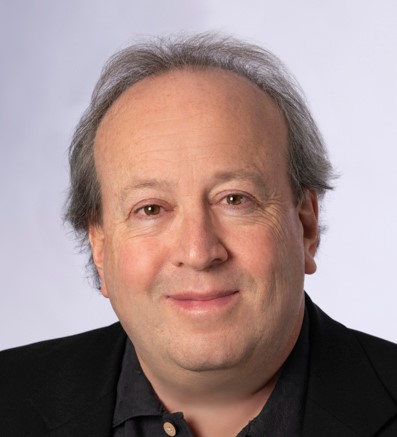 By Fred Diamond
Can you be a successful business owner in a competitive and stressful industry while dealing with chronic Lyme disease?
I regularly interview high-achieving sales and business leaders around the world for my Sales Game Changers Podcast. When I decided to learn more about Lyme last year, to support someone in my life with the disease, I sought people to interview who had successful careers in sales and business while challenged with the disease.
Lauren Bailey is the founder of the sales training company Factor 8 and the Girl's Club. Some of our mutual acquaintances suggested I interview her since she has been public about having Lyme disease.
On my podcast, we talked about getting past obstacles on the way to business success. She shared that it has not always been easy.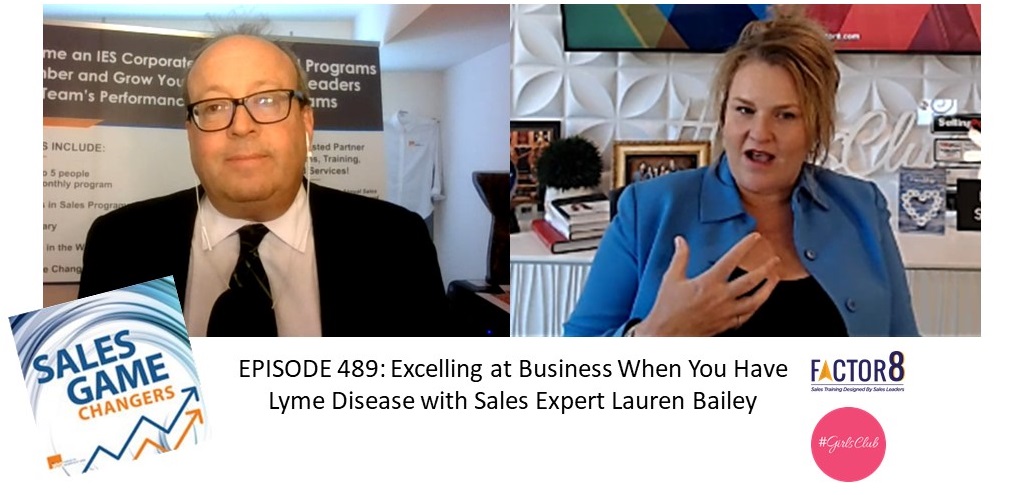 "I've had times where I've been in bed and when I was out of work. I've had times where I was in a wheelchair, and now I'm considered high functioning for somebody with Lyme disease. I think, frankly, that being driven at work is helpful to that," she said.
"Being in sales and being obsessed with it helps get you out of bed and doing what you need to do. Just like having kids helps get you out of bed and doing what you need to do. If I didn't have two businesses and two little boys, I would have logged many, many more hours with my pillow for sure. I've taken business meetings from bed!"
How to overcome blocks to success
I asked her how she dealt with the blocks that having Lyme disease can cause and still be successful.
"I would say that 50% of our blocks are actual and the other 50% are mental. For instance, I'll say to myself, "I don't need to call prospects back" or "prospects don't need to hear from me," and I know that having Lyme makes those worse than they are," she said.
"Imagine the most tired you've ever been in your entire life. With Lyme, it's a heaviness and a lethargy that makes it impossible to move. It's how am I going to get up and make it to the bathroom kind of tired. And the worst part is when it gets into the brain, and you have Alzheimer-like symptoms. When it started attacking my mental capacity, that's when it really made me angry. There are times when I can't get words out, and they'll get stuck, I'll stammer, and I'll twitch and forget things. It's humiliating."
I asked how then was she was so successful battling the disease while having a hugely successful career in sales and business?
She said, "You must spend money getting help. I have an assistant at home and at work, and I don't operate without them. I've called my assistant and have said, "Move everything out a week because I'm in a bad way and I'm not going to make it."
I also have the best partner in the world in my husband, because there are times when I'm completely dark. I'll call my husband and say, "Looks like I'm not going to make it out of bed today. Have you got drop-off, pick-up? What can't you cover?" That's just the reality of it."
Throwing away other people's rules
She continued, "I ask for help, I give myself breaks when I need it and I arrange my business to be a lifestyle business so that I can have a life and be a mom and manage those other things. I think you must throw away everybody else's rules and you must listen to yourself and take care of yourself. That's not always easy to do."
I asked how her dealing with Lyme can help sales professionals overcome blocks.
She said, "It's one and the same conversation. It's aligning with your purpose and the higher good. The days I woke up and said, 'Today I'm going to help inspire and teach people' were the days where I really achieved."
"It's about finding your why and how you're helping your community and sitting in that for a couple of minutes and aligning with that. You get that energy right and you get that mind frame right, and then you reach out to do the world a favor and bring them what you can bring them."
"If you go into the sales call with the goal of, "I'm going to really engage somebody," or, "I'm going to teach somebody something," or, "I'm going to learn something, you'll be successful. Go in with curiosity and the desire to connect. That will do more than anything help you achieve sales and business success."
Advice for others?
In closing, I asked her for some advice for people with Lyme who want to pursue careers in sales.
"I have the most Lyme flare ups and the most symptoms when I'm out of alignment. I go right into seeing the blocks, seeing the no's and feeling the pain which comes then with depression, and then I spiral downward in a pity spiral, a 'woe is me' spiral, and I don't achieve anything when I'm there. It's about raising your energy level."
"I absolutely feel for all my brothers and sisters who are struggling with the disease. I spend my mornings listening to Simon Sinek, or Brené Brown, or Oprah Winfrey, or Abraham Hicks, or somebody who raises my vibration. Am I flying high today or am I sinking low? When I fly high, it helps me achieve in overcoming disease and it helps me achieve in overcoming obstacles of any kind, including sales rejection."
She concluded with, "My mission in life is to help people grow confidence. I want everybody in the world to feel successful at work. When we feel confident and successful, we achieve. When we feel confident and successful at work, it makes all of our lives better."
Click here to listen to the episode and read the complete transcript.
Lauren's story was very inspiring to me and hopefully to you. Working at all, let alone having a fulfilling career, can be a challenge with Lyme disease but it is possible. I hope you find that for yourself.
Fred Diamond is based in Fairfax, VA and can be contacted via Facebook. For a living, he runs the Institute for Excellence in Sales and hosts the Sales Game Changers Podcast. Someone close to him is a chronic Lyme survivor which led to his advocacy for Lyme solutions. He is always looking to interview sales leaders who have overcome Lyme to achieve career success.