NEWS: Lyme DNA testing–Fast and reliable?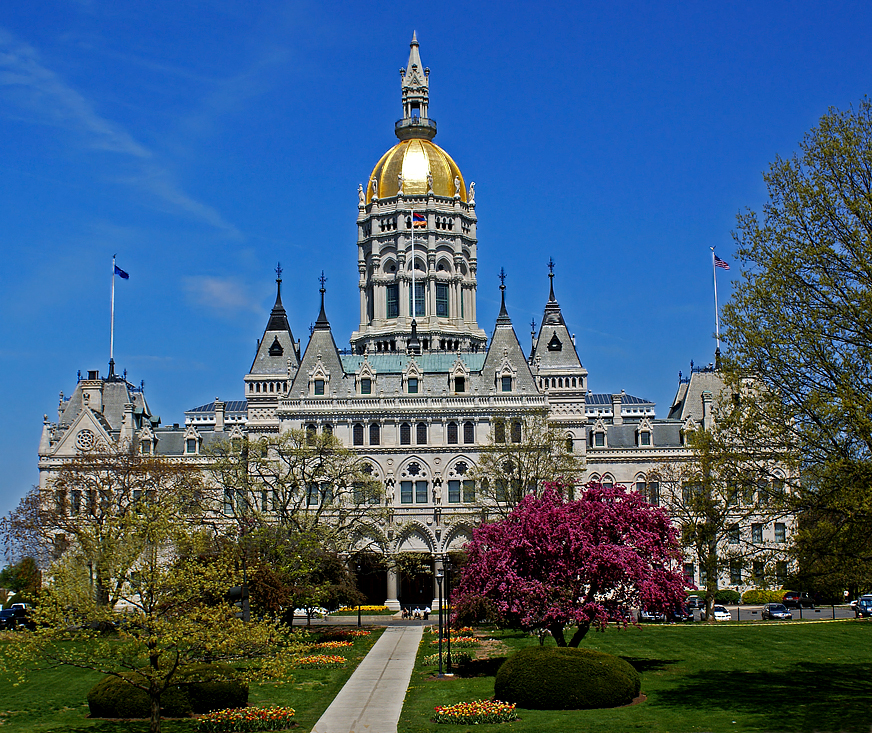 The Connecticut State Capitol was the site of a symposium about new kinds of Lyme testing.
Press release, Coalition Against Lyme and Related Borrelioses
Sept 16, 2014
HARTFORD, Conn.–(BUSINESS WIRE)–The Coalition Against Lyme and Related Borrelioses (CALRB, www.calrb.org) held a symposium today at the State Capitol building in Hartford, Conn., to discuss new DNA sequencing based approaches to Lyme disease testing and diagnosis. The symposium is believed to be the first of its kind devoted strictly to discussing these new and evolving DNA based testing techniques.
"The symposium is a call to action in response to a recent desire expressed by Dr. Paul Mead, chief of epidemiology and surveillance for the CDC's Lyme disease program, for more reliable and conclusive Lyme disease tests," said Kevin Moore, president and executive director of CALRB, adding, "This symposium hopefully gets us one step closer to newer, more effective tests."
Speakers included Sin Hang Lee, M.D., Pathologist from Milford Hospital, Milford, Conn., Thomas Moorcroft, D.O. from Berlin, Conn., Katherine Lantsman, M.D. from Boston, Mass., Richard Horowitz, M.D. from Hyde Park, N.Y., Daniel J. Cameron, M.D., of Mt. Kisco, N.Y., President of the International Lyme and Associated Diseases Society. All are medical practitioners or research scientists who are leaders in national efforts to bring about faster and more conclusive means of testing for Lyme disease and related borrelioses.
At the symposium, the speakers voted to support a CALRB resolution calling for public advocacy of the event's three goals:
| | | | |
| --- | --- | --- | --- |
| (1) | | | Establish that reliable tests for causative agents of Lyme and related borrelioses are now available and should be used for patient care at the Lyme endemic areas |
| (2) | | | Propose that the College of American Pathologists and the Centers for Disease Control and Prevention introduce proficiency tests for causative agents of Lyme and related borrelioses to further improve the quality of the tests and to gain patient/consumer confidence |
| (3) | | | Demand the insurance companies to pay for tests for causative agents of Lyme and related borrelioses, just as they would pay for Western blots for Lyme disease antibody assays. |
In a letter addressed to attendees, Connecticut Senator Richard Blumenthal, a strong advocate for scientific and funding initiatives designed to encourage the development of more conclusive, reliable and faster tests for Lyme disease and similar tick borne diseases, applauded CALRB for hosting the symposium and for its work in raising awareness about the need to "expedite appropriate diagnosis, testing and treatment to those who need it most – patients suffering from Lyme's debilitating effects."
More than 300,000 cases of Lyme disease are diagnosed annually in the United States. The illness is increasing across the nation, reaching almost epidemic proportions in some areas. Lyme disease, or more accurately the borrelia bacteria that cause the illness, dates back millions of years. It wasn't until 1975, however, when several cases turned up in Lyme, Connecticut, that the illness was named.
Serology tests for Lyme disease were introduced in the 1980's, but the two-tier serology test has been the chief testing tool for the diagnosis of Lyme disease since 1994. At the time, serology tests were the only option in testing for Lyme disease. However, medical practitioners and scientists readily concede that these tests can be inaccurate and have a high rate of false positives or false negatives resulting in missed diagnosis and improper treatment.
"With the dramatic increase in the numbers of Lyme disease cases in recent years, has come the demand for more reliable tests," Moore said.
CALRB (www.calrb.org) is a newly formed Connecticut non-profit organization dedicated to informing the public, medical, scientific and political communities about developments in the fight against Lyme disease, specifically pertaining to the reliable diagnosis of Lyme disease and Lyme disease-mimicking borrelia infections.