Feb. 11 webinar on "Divided Bodies," a book about gender and Lyme disease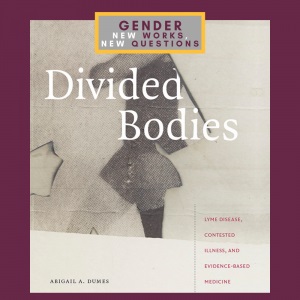 The University of Michigan's Institute for the Study of Women and Gender will present a webinar discussing the book "Divided Bodies" on February 11, noon-1 pm Eastern Time.
Panelists will include the book's author, Abigail Dumes, Assistant Professor of Women's and Gender Studies; Rachel Kahn Best, Assistant Professor of Sociology; and Yi-Li Wu, Associate Professor of Women's and Gender Studies & History.
Here's how a press release describes the event:
While many doctors claim that Lyme disease—a tick-borne bacterial infection—is easily diagnosed and treated, other doctors and the patients they care for argue that it can persist beyond standard antibiotic treatment in the form of chronic Lyme disease.
Abigail A. Dumes offers an ethnographic exploration of the Lyme disease controversy that sheds light on the relationship between contested illness and evidence-based medicine in the United States.
Drawing on fieldwork among Lyme patients, doctors, and scientists, Dumes formulates the notion of divided bodies: she argues that contested illnesses are disorders characterized by the division of bodies of thought in which the patient's experience is often in conflict with how it is perceived.
Dumes also shows how evidence-based medicine has paradoxically amplified differences in practice and opinion by providing a platform of legitimacy on which interested parties—patients, doctors, scientists, politicians—can make claims to medical truth.
This event is part of IRWG's Gender: New Works, New Questions series, which spotlights recent publications by U-M faculty members and allows for deeper discussion by an interdisciplinary panel.
Register here to immediately receive Zoom details. Note: you may register after the event has started.