Avril Lavigne's first post-Lyme concert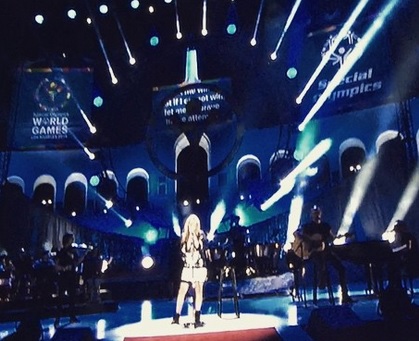 From E Online, by Mike Vulpo, July 25, 2015
Welcome back to the stage, Avril Lavigne!
In her first concert performance in more than a year, the 30-year-old appeared at the Opening Ceremony of the 2015 Special Olympics World Games Saturday night to sing her latest track "Fly."
As the torch was lit to officially begin the games, Lavigne appeared onstage in a sparkling dress to perform her inspiring single that benefits the games.
"I just sang FLY on stage for the FIRST time ALL THE WAY THROUGH live tonight in rehearsal," she wrote on Instagram Friday. "Making what feels like the impossible possible……Fighting through Lyme Disease. 'Just Reach Up Don't Give Up' so happy to be working with the Special Olympics LA 2015. Grateful."
While the performance was all for a special cause, it clearly marks a powerful milestone for Lavigne who has been recovering from Lyme disease. READ MORE.