NEWS: Australian Lyme patients stage November protest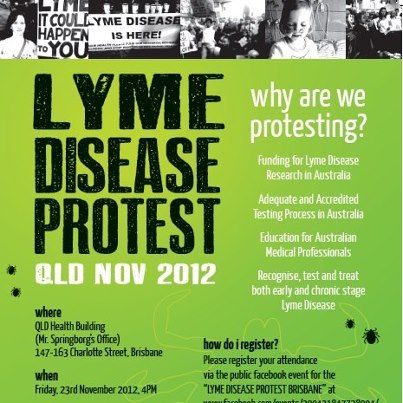 Queensland (QLD), a state in northeastern Australia, held its first-ever Lyme patient protest on November 23, 2012. At first, government officials refused to meet with protesters, but then had a change of heart.
From the Lyme Disease Association of Australia:
The Lyme community of QLD and their families and friends are celebrating this week after a great turn out at the November 23rd Lyme Disease Protest outside the Queensland Health Office, Brisbane. Rachael Robbins, assisted by Karen Smith, spearheaded the official protest on behalf of the QLD Lyme Group. Interstate guests included Nikki & Steve Coleman, representing the Lyme Disease Association of Australian and Dr Mualla McManus was there to fly the flag for the Karl McManus Foundation. Huge round of applause to the MD's, including Dr Andrew Ladhams. who were there both representing their patients and to support the resolution of diagnosis and treatment inadequacies faced by Lyme patients in QLD specifically and Australia in general.
Approximately 90 people joined forces to share the message, learn from others and to collaborate for Lyme Awareness, Recognition, Policy Development, Trained Medical Personnel, Treatment & Testing Access and Community Education on Tick Bite Awareness.
The government had refused to meet, until a last minute change of heart. While there was little to celebrate in regards to meeting outcomes, increased awareness of current government process will assist future endeavours. Now that we (Lyme Community) are aware of the CDNA review, it is now planned to put in a request for information with regards to what research is to be taken into account in the review process.
Attending the meeting with government was – Nikki and Steve Coleman (LDAA), Dr Mualla McManus (KMF), Dr Andrew Ladhams, Karen Smith Assoc MAPS,
A BIG congratulations and hats off to the amazing Lyme Warriors!
The following video from the event was posted on YouTube:
http://www.youtube.com/watch?v=h63VYWzTDZo&feature=youtu.be