NEWS: Arizona finally recognizes people can catch Lyme disease there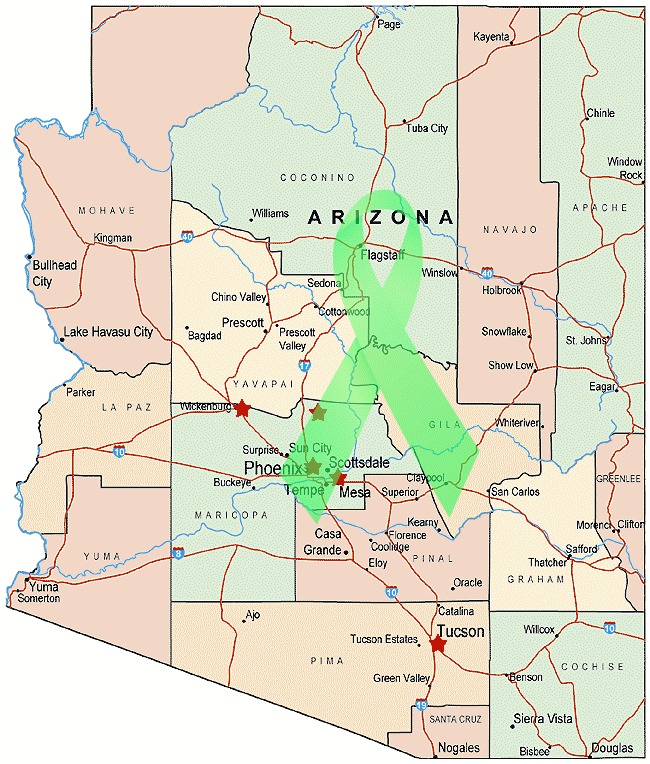 Thanks to eight years of advocacy work by the group LEAP, Arizona's health department website now provides factual information about Lyme in that state. Among other things, the website says, "Due to the fact that not all cases are reported to state and local health departments by health practitioners and some cases acquired in Arizona may not meet the epidemiologic surveillance criteria, the lack of statistically-counted cases of Lyme disease acquired in Arizona should not deter health practitioners from using their clinical judgment when rendering a clinical diagnosis of Lyme disease in patients reporting symptoms from tick bites acquired in Arizona."
.
.
The following press release is from the Lyme Education Awareness Program (LEAP):
ARIZONA GOVERNOR
and ARIZONA DEPARTMENT OF HEALTH SERVICES (ADHS)
RECOGNIZE LYME DISEASE IN ARIZONA
Since 2005, Lyme disease patient advocate Tina Garcia, Founder and President of Lyme Education Awareness Program (L.E.A.P.), has promoted awareness of Lyme disease in Arizona and nationwide.  On July 30, 2009, Mrs. Garcia was selected by former Connecticut Attorney General Richard Blumenthal (now U.S. Senator for Connecticut) and the Infectious Diseases Society of America to testify on behalf of the worldwide Lyme patient community at a private legal hearing held in Washington, DC.
Mrs. Garcia contracted Lyme disease and Erlichiosis, both tick-borne bacterial infections, from a tick bite in November of 1998 south of Cordes Junction , Arizona .  Without any knowledge of tick-borne diseases, Tina went six (6) years without antibiotic treatment, while the infection ravaged her body.  By the end of 2004, she was disabled from the chronic infection.
Tina sought antibiotic treatment for chronic encephalopathy, dementia and excruciating musculoskeletal pain from two (2) infectious diseases specialists in Arizona , the second of whom, at the time, was the President of the Arizona Chapter of the Infectious Diseases Society of America.  Both infectious disease specialists denied treatment to Mrs. Garcia, with the former doctor inferring she was never bitten by a tick in Arizona and the latter insinuating that she needed psychological examination.  Both ID specialists told Tina there was no Lyme disease in Arizona .
Fortunately, she found two other physicians who diagnosed Lyme disease and a co-infection, Erlichiosis; both Lyme-knowledgeable physicians recommended intravenous antibiotic therapy for her serious neurological symptoms.  Although she had state-run insurance, AHCCCS, coverage for the intravenous antibiotics was denied based upon misdiagnosis by the infectious disease specialists.  Neither Tina nor her family could afford the cost of expensive intravenous treatment, so instead, her family paid for oral and intramuscular injections, which saved her life.  Today Tina's health has improved, but she still suffers with residual problems.
For eight (8) years, Tina has worked to gain recognition for the disease in the state of Arizona .  Recently, with the help of Governor Brewer's Deputy Director for Health Care Policy, the Arizona Department of Health Services (ADHS) updated Lyme information on its website.  Thanks to language submitted by Lyme Education Awareness Program, the ADHS Lyme disease webpage now provides an accurate and factual description of Lyme disease in Arizona .
Lyme-treating physician and L.E.A.P. Board member Dr. David Korn of Sunridge Medical in Scottsdale, Arizona, is hopeful that this newly-posted information will assist physicians, both in private practice and in hospitals, to be more vigilant in recognizing the varied manifestations of Lyme disease, which he says are similar to those exhibited by syphilis, another long-term, chronic, bacterial infection.  "Lyme disease needs to be exalted to its proper standing in the spectrum of diseases, as it can present as more than 300 different conditions and illnesses, including Multiple sclerosis, ALS, Parkinson's and Alzheimer's.  I'm grateful the Arizona Department of Health Services has updated their information on Lyme disease, as Lyme is a serious and chronic infection that causes mitochondrial dysfunction, which can lead to cancer."
L.E.A.P.'s Founder and President enthusiastically states, "We are extremely grateful for this action, as it is a significant step forward taken by Governor Brewer and the Arizona Department of Health Services, in recognizing the existence of Lyme disease in Arizona and providing that information to physicians.  It is timely in that May has been proclaimed by Governor Brewer as Lyme Disease Awareness Month, and in conjunction with the Worldwide Lyme Disease Awareness Protest, L.E.A.P. will be attending a rally at Mayo Clinic Scottsdale on May 10th from 12:30 to 3:00 p.m.
"The new information will help patients who live in Arizona and contract the disease here.  When a physician says there is no Lyme in Arizona , the patient can refer the doctor to the ADHS website for evidence that there is.  And if a visitor is bitten by a tick in Arizona , returns home and develops symptoms, their physician will have access to information that helps with diagnosis.  Now it is the responsibility of physicians in Arizona and elsewhere, especially infectious disease specialists, to utilize the information on the ADHS website to render diagnosis of Lyme disease, test for possible co-infections and provide timely and adequate treatment to patients.  Hopefully, others will not have to endure the suffering and medical neglect I have experienced due to denial of the existence of Lyme disease in Arizona ."
Lyme Education Awareness Program ~ L.E.A.P.
www.leaparizona.com
International Lyme and Associated Diseases Society (ILADS)
www.ilads.org
Connecticut Attorney General Press Release dated May 1, 2008
Infectious Diseases Society of America Conflicts of Interest Related to Lyme Disease
http://www.ct.gov/ag/cwp/view.asp?a=2795&q=414284