NEWS: Alabama woman's lifetime of health problems now linked to Lyme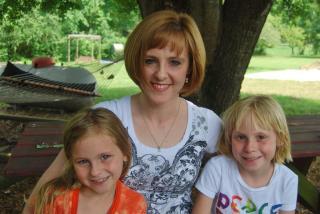 "Modern medical doctors don't consider this a 'high-risk' area so they don't often test for it. For years I have had this little parasite inside me, wrecking havoc with my body, and it took that long for someone to recognize what it was."
June 24, 2012
Local woman battles Lyme disease
By Loretta Gillespie The Cullman Times
CULLMAN — Imagine going for years and years with an undiagnosed disease that causes your joints to swell and ache, constant ear, upper respiratory and bladder infections, migraines, depression and eventually fibromyalgia.
No one knows what the root cause is, so you are only treated for the symptoms, never really getting well from one bout of infections before another takes its place.
Sometimes people think you are a hypochondriac, or that you suffer from some form of mental illness.
This has been 33-year-old Christy Driver's life up to now. It wasn't until the spring of 2010 that an astute doctor who was actually treating Christy's oldest daughter for Aspergers Syndrome, decided to test her for Lyme disease, which is normally transmitted through the bite of an infected tick.
Click here to read the rest of the article.