NEWS: Is Multiple Sclerosis caused by a virus?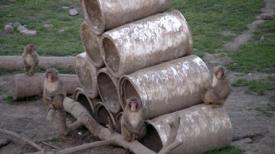 Oregon scientists suspect a virus is triggering MS in monkeys. This research may hold a clue to discovering how pathogens may trigger a wide variety of conditions in humans.
From the Oregonian:
Monkey multiple sclerosis discovered in Oregon suggests virus may cause human disease
Published: Tuesday, June 28, 2011, 8:05 PM     Updated:
Wednesday, June 29, 2011, 6:00 AM
By Joe Rojas-Burke, The Oregonian
The Oregonian
In 1986, an unknown disease began killing monkeys at the Oregon National Primate Research Center in Hillsboro. Affected animals developed an unsteady gait and a rapidly advancing paralysis of the limbs. Caregivers could do nothing to stop the disease and euthanized most of the helpless animals within a week of symptom onset. 
The disease, researchers now report, is the monkey equivalent of multiple sclerosis. And it appears to be caused by a virus – adding support to the possibility that multiple sclerosis in humans can be triggered by a viral infection. Experts say the discovery could help expedite the search for more effective treatments.