TOUCHED BY LYME: (guest blog) When Lyme shatters your family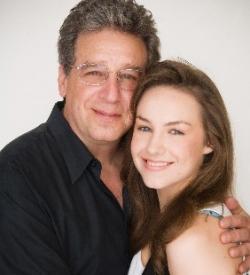 Tom Feldman, whose daughter became seriously ill at a young age, discusses his family's harrowing journey through Lyme disease.
When our daughter Silver became suddenly and mysteriously ill, we had no idea what we were dealing with and I was shocked to find that neither did the many, many doctors we consulted.  For more than eight months we were given many diagnoses – all of which were wrong.  One ER doctor said, "your daughter has too many symptoms," the not so subtle message being that she had "psychological" problems.
The head of pediatric infectious diseases at our HMO showed little concern or empathy.  Instead of acknowledging our daughter's serious symptoms, he accused us of being "overly concerned."  (At the time she had an intractable 24/7 headache, cognitive issues, a page full of symptoms, was rarely attending school, had periodic difficulty walking,  experienced bouts of uncontrollable tremors, and he accused us of being OVERLY CONCERNED?)   
Lyme disease utterly upset the homeostasis of our family system.  Six months into this illness, we had to take her out of school because she was too sick to do the work. An accurate diagnosis took nine months, tens of thousands of dollars and a trip across the US. 
We found ourselves in a netherworld– those who "should" have been helping us were of little or no use, sometimes actively opposing us.  We were now caring for our daughter 24 hours a day, battling the school system to qualify for "home instruction," and battling our HMO to get appropriate and necessary treatment. We were isolated and lonely.
Between going to doctors, searching for a diagnosis, taking care of our daughter and giving her treatments, we had little time or energy for anything else.  Our personal lives and professional goals had to be put on hold.
Financially, we cancelled everything we could, stopped eating out, going to movies, and buying anything non-essential.  We drove less.  We did whatever we could think of to conserve our finances.
We needed more money and yet we had to accept less work (we're freelancers).  We refinanced our home, which scuttled the retirement conversation.  We staggered our work schedules and turned down work so that one of us could always be a caretaker.  
We encouraged each other as we strove to keep our world from imploding.  We played card and board games, watched classic movies, read out loud, cooked together, took occasional short walks.  Thus emerged a "new normal." 
Once we had a diagnosis, it was clear that our daughter had been a poster child for Lyme disease.  Why did so many doctors and medical professionals miss this disease while looking right at it?  And why was it that the doctors who missed the diagnosis would not be interested in finding out what had been going on?  
After diagnosis, our daughter did oral antibiotics, and we supplemented them over time with acupuncturists, homeopaths, nutritionists, hyperbaric oxygen treatments, rife, ozone steam , high-powered magnetic pulsers, light therapy, chiropractors, and more.  Finally, we got her on IV ceftriaxone which made an immediate and profound difference: in 3-4 weeks (and after a major Herx) she went from being unable to leave the house on her own to being able to drive, work part time, pursue a relationship, and take classes, even if she had not fully recovered. She got her life back!
As her condition improved, we helped our daughter with her schoolwork and she graduated from high school.  I taught her to cook, and she's written and published two cookbooks.  Her Mom taught her a profession.  She's taken design classes, and has had a full-time job as a graphic artist for nearly a year.  She has a healthy relationship.  She has been doing alternative treatments that have taken her remaining symptoms down to nearly zero.  But nothing about any of this was easy!  All of us have slowly learned to make lemonade out of the lemons in our lives. 
We have utterly changed the way we see life.  Little things that used to bother us or cause upsets now pass with no mention.  We have developed new healthy friendships, some of them in the Lyme community, that have come to mean a great deal to us.  Our family is intact and very close. We have a new understanding of the important things in life:  living into our calling, health, relationships and community. 
I'm suggesting that, as best you can — rather than turning inward, seek ways to turn outward and get involved, even small ones.  Participation in life is healing to the soul.  Reach out and be in communication with others.  Take baby steps.  Pick something that gives you joy and pursue it.
An ill person is at a disadvantage: having less energy, having to manage severe pain,  symptoms, and treatments.  These are time consuming and exhausting.  Fun may not show up on Life's Menu very often, but don't give up.  Embrace your life as it is.  Become the biggest person you can be.  Give up being small.  Forego the lower emotions: fear, anger, envy, resentment, victimization, etc., and embrace the higher emotions: love, kindness, generosity, peace, and compassion.  YOU are not sick!  Your BODY is sick.  Do everything you can to get well and be pain free and become the best you that you can be.  Be bold!  Become the hero of your own life.
(Excerpted and updated from "When Lyme Shatters Your Family," Lyme Times, Winter 2010/2011.)
About the author: Tom Feldman has been a professional in the entertainment business for many years, receiving a nomination as a Lighting Director and winning an Emmy award for his work as a Gaffer.  He is a founding member of The Association of Transformational Leaders of

Southern California

, an Adjunct Professor in Communications at

Woodbury University

, and Board Chair of The Forge Institute, a national organization of spiritual leaders and teachers. He leads personal development workshops and is a lifecoach.  (

Tom@TomFeldman.com

)
Tom's wife, Beverly Feldman, maintains a Lyme awareness site: lymesucks.org.
The TOUCHED BY LYME blog is written by Dorothy Kupcha Leland, CALDA's VP for Education and Outreach. Contact her at dleland@lymedisease.org.