NEWS: Ticks are killing as many moose as people are. Researchers blame climate change.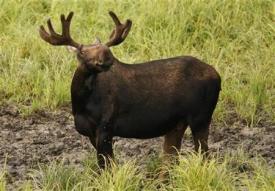 From Reuters News: Moose are at a physiological low when winter ticks are feeding, leading to stresses like reduced blood volume, a thinner coat due to scratching, and an inability to lie down and rest. This combination leaves the moose open to an array of other infections, A high number of ticks is "almost a death sentence" for calves because they can lose their entire blood supply over just a few months. Climate change magnifies the tick problem because the pests live longer and reproduce in greater numbers if there's less snow on the ground by spring.
From Reuters:
Climate change raising tick threat for northern moose: officials
CONWAY, Mass | Sat Jun 18, 2011 
CONWAY, Mass (Reuters) – Moose living in northern states such as New Hampshire and Minnesota face an increased threat from blood-feeding ticks and deer-borne parasites because of shorter winters caused by climate change, U.S. wildlife officials say.
Winter ticks account for 41 percent of all deaths of the antlered animal popular with hunters and wildlife watchers in New Hampshire — the same percentage killed there by hunting and moose-vehicle collisions, according to a study released this week by the state's Fish and Game Department.
Nearly all of the calf deaths noted during the study, which began collaring and tracking moose in 2001, were caused by winter ticks, said Kristine Rines, the department's moose project leader.
Moose, which in New Hampshire average six feet tall at the shoulder and weigh 1,000 pounds, tend to become infested with an astounding number of ticks at one time.
Click here to read the rest of the article.