NEWS: Massachusetts group puts up Lyme billboard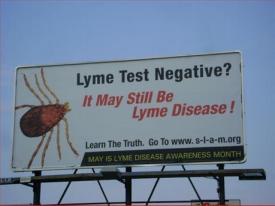 As part of Lyme Awareness Month activities, the advocacy group SLAM–Sturbridge Lyme Awareness of Massachusetts–has put up a billboard.
The billboard's message:
Lyme test negative?
It may still be Lyme Disease!
Learn the truth. Go to www.s-l-a-m.org
The billboard is located off of exit 6 of Masspike and Rte. 291.