NEWS: "Afflicted soldier to seek radical treatment for Lyme disease"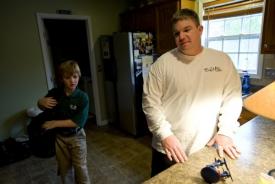 Earlier in the week, the Fayetteville Observer profiled the plight of a North Carolina soldier in a story headlined: "Mystery illness upends lives of soldier, family." Today, the paper updates that story with the news that man will seek "radical" treatment for Lyme disease. The article includes the startling information that Tricare, the military's insurer, will pay for the patient to see controversial Lyme specialist Dr. Joseph Jemsek.
From the Fayetteville Observer, North Carolina
Published: 05:08 AM, Sun Jan 23, 2011

A Fort Bragg soldier whose health is rapidly failing intends to see a controversial Lyme disease specialist in Washington.
Chief Warrant Officer 2 Chris Harriss will visit Dr. Joe Jemsek on Monday in hopes of beginning treatment for chronic Lyme disease, Harriss' wife, Karin, said Friday.
Jemsek's North Carolina medical license was suspended in 2006 after the state Medical Board charged him with inappropriately diagnosing and treating patients with Lyme disease. One of Jemsek's patients died after prolonged treatment.
Jemsek has re-established his practice in Washington and continues to treat Lyme disease patients with antibiotics for far longer than national guidelines recommend.
Jemsek's lawyer, Susan Green, said Jemsek has been treating patients with "incredible success."
"It saddens me deeply to see this man miscast," Green said. "There is just a ton of people who will tell you this man has saved their lives. I have seen it over and over again."
Read the rest of the article here.
Read previous article ("Mystery illness upends lives of soldier, family" here.