Lyme awareness at the Santa Cruz County Fair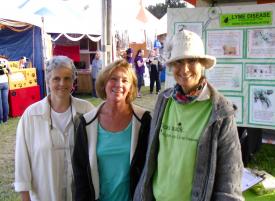 About 25 activists from area support groups talked to hundreds of people over the six days of the fair.
.
.
Lyme advocate Judith Ain offers these details:
We had a
Lyme Disease
information booth at the
Santa Cruz County Fair
from the 14th to the 19th of September 2010. We had financial support from CALDA and a variety of individuals to fund the booth. Those of us who organized and staffed the booth were an ad hoc group of about 25 folk mainly from the Watsonville/Monterey Lyme Education Group, the
Santa Cruz
Tick-borne Disease Support
Group and the SCLyme Yahoo Group along with some other friends and supporters who share our interest in getting the word out about Lyme Disease and other tick-borne infections. We put up flyers around the community announcing our booth at the fair. We talked with hundreds of people over the six days of the fair. We got some coverage on a local radio station and on community access TV and a reporter from a local newspaper expressed an interest in doing a story about Lyme Disease.