NEWS: Canadians say they can't get treated for Lyme; officials say they don't need it.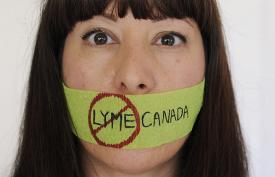 The Vancouver Sun says: "It's a controversy with a bite."
.
.
.
.
.
.
.
.
.
From the Vancouver Sun:
People with Lyme disease say they can't get treatment
Health officials say they don't need it. It's a controversy with a bite.
What if you picked up a crippling bacterial disease, but your doctor says it's virtually impossible you have it? Or the doctor agrees you're sick, but won't treat you for fear of being drummed out of the profession?
Lyme disease patients in British Columbia say that's what's happening to them, and they're being forced to look outside the mainstream medicalsystem for help.
While health officials say a few hundred Canadians contract Lyme disease each year, patient advocates claim that's a drastic underestimate.
They say they're given inadequate tests, denied medical treatment or told something else is causing the muscle and joint pain that leaves them unable to walk. And the few doctors willing to treat them with long-term antibiotics — sometimes administered for months intravenously — fear repercussions from their licensing bodies.
On the other side, public health officials say the risk of picking up Lyme disease here is minuscule, testing methods are accurate and there is no evidence that long courses of antibiotics are helpful. They blame questionable blood tests from private U.S. laboratories for convincing people they have Lyme disease when they're really suffering from another mysterious condition.