NEWS: Threat of ticks in Georgia too often ignored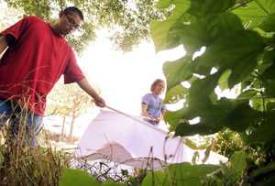 The Macon (GA) Telegraph profiles the work of tick expert Alan Smith, of Mercer University, and Liz Schmitz, of the Georgia Lyme Disease Association.
.
.
.
.
.
.
.
From the Telegraph (Macon, GA), June 8, 2010:
Experts seeing rise in tick population, threat of disease
–
Perched atop blades of grass or taller vegetation, ticks wait for a feast to walk by.
Standing on their back legs with their front legs outstretched, the blood-thirsty critters are ready to latch on at the first hint of carbon dioxide or heat alert from their infrared sensors.
Mercer associate professor of biology Alan Smith actively seeks out ticks for research.
In recent weeks, he has been teaching seventh-grade students at the Amerson Water Works Park on the Ocmulgee River about all forms of wildlife.